Adam's clinic visits each month have become routine since the end of intensification chemotherapy in April. He had a spinal tap during this visit in November. Once again I dreaded waiting for the results. Once again Adam came through with no signs of relapse. What a relief. Five more months until the next spinal tap.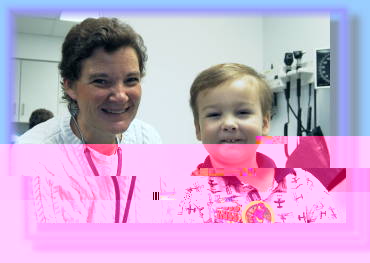 Adam has just had his monthly exam from Nurse Judy.

Judy is a Nurse Practitioner and does Adam's spinal taps.


Adam has some new friends in Kindergarten. The one he talks about the most is Justin. I sent a letter to school with Adam one day. It was for Justin to give to his parents. The letter asked if Adam and Justin could get together and play some weekend. Justin's mom, Tammy, called and we arranged an afternoon for them to play. Adam was so excited about it. I am glad to see him making friends at school. He does not seem to let being in a wheelchair bother him in class. His teacher says he gets along great with the other students.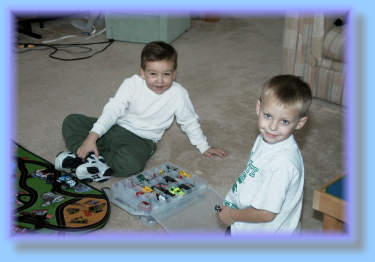 Adam with his new buddy, Justin.


We had our first Parent/Teacher Conference. Both of Adam's teachers gave us glowing reports on Adam! He got a 1 (the highest grade) in every category except one. In "cleaning up after himself" he got a 2. The teachers had all kinds of praise for Adam. His learning skills and his social skills are excellent.

We also had an IEP meeting about Adam. Virtually everyone involved with Adam at school met with us to discuss his status and progress. Once again Adam came through with flying colors. The school Psychologist scored Adam as ABOVE AVERAGE or SUPERIOR in almost all categories. He scored AVERAGE in only one or two categories. The Speech/Language Pathologist gave Adam an age equivalent of 7.1 in language skills (he is 5.7 years old)! The PT and OT have seen tremendous improvement in his upper body strength and abilities in the last year. Everyone said Adam is a joy to have at school.

From my point of view Adam has always been a pretty intelligent kid. But it sure was nice to hear it from others. I've said this a lot, but again, I am as proud as a father can be of MY LITTLE BOY!

It was a tremendous relief to hear these reports. There are all kinds of nasty side effects possible with chemotherapy. Lots of them involve mental and physical disabilities. Adam has already had more than his share of physical problems. We are extremely pleased to see that there are no apparent learning or developmental disabilities. Other than remaining in remission my next greatest wish for Adam is to not suffer any effects on his learning and development.

Next Page

Previous Page