Adam was awake at 6am this morning. He was full of energy and ready to go. Lori went running at 6:40 and I went when she got back around 7:55.

There was a Denny's attached to the motel so we ate breakfast there. Adam ate all his pancakes, bacon, and sausage. Then he asked for more. He had an extra slice of bacon and sausage plus a second glass of milk before he was full.

We left Watertown and headed for Saranac and Lake Placid. In Saranac there were some roads blocked by the police. We also saw fire trucks in a parking lot with a lot of people looking up one of the blocked streets. I guessed there might be a forest fire. We found out the truth later.

In Lake Placid we decided to park and walk around. We went up and down the main street. For lunch we stopped in a bagel shop. Lori had a bagel and I had a club sandwich plus a huge chocolate chip muffin with frosting on top. Stella, Adam's bus driver, had given him a Beanie Baby just before we left on our trip. It was Rocket, the Bluejay. Adam had carried it with him for several days. Somewhere along the sidewalk in Lake Placid it had fallen out of his wheelchair unnoticed. He was very upset when we lost it. I retraced some of our walk but could not find it.

Then we headed for the road up to the top of Whiteface Mountain. On the way I kept acting scared whenever I saw the mountain and how high it was. Adam would hold my hand and tell me not to worry. On the drive up I again acted scared whenever we had a view of the area from a high vantage point. Adam got a kick out of holding my hand and "helping" me be brave enough to keep driving.

At the top we took the elevator 267 feet up from the parking lot to the summit. Somehow we ended up talking with the elevator operator about what we had seen in Saranac with the police and fire trucks. He told us there had been a bank robbery and they caught the robber where the roadblocks were.

It was a gorgeous day. The views extended at least 75 miles in every direction. You could clearly see Lake Champlain and the mountains in Vermont. There was a lot of smoke visible to the north in a valley. I heard one of the employees call down the mountain and ask if they knew about the forest fire. Adam was ready to leave after about 15 minutes. He enjoyed the views but then wanted to keep going. The temperature was 70 at the bottom but only 58 on top. As we left the elevator tunnel the ticket collector in the parking lot asked us if we knew where Montreal was from where we were. I said not really. At first I thought he was looking for directions from me. But then he explained how we could look out and see a tiny golden dot of light on the horizon. It was sunlight reflecting off the Bank Of Montreal building. I looked through my binoculars and sure enough you could see the Montreal skyline. He said it was 75 miles away. He also said the sun reflects from the building for about 10 minutes and only at this one time of the year. It was a pretty rare event we were seeing.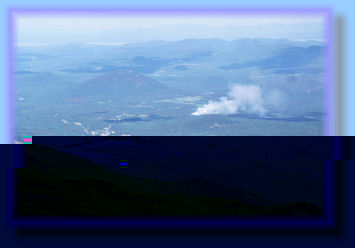 Adam got excited when he saw this forest fire.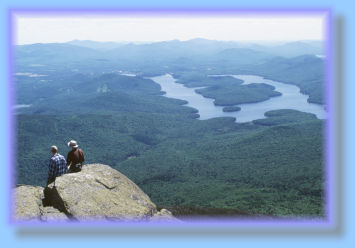 The view of Lake Placid from Whiteface Mountain.


After we left the mountain we headed for the ferry at Port Keene to cross Lake Champlain. On the way we passed within a quarter mile of the fire we had seen from the top. There were lots of fire trucks and fire fighters along the side of the road. We kept seeing more fire trucks headed for the fire as we drove on. It must have been pretty serious. Adam pretended to call Chief Ahonen to tell him all about it.

At Port Keene we took the ferry across to Burlington. It left at 5:45pm. Adam enjoyed the nearly hour ride across. I carried him around the ferry. He was explaining what all the items we saw on the ferry were. Things like the big steel ring at the front to tie the ferry up with. The fire hose, life rings, life lines at the bow, life boat, where the engines were, and other things. It was very cute to listen to his explanations for everything.

After leaving Burlington we headed for Stowe. We found a room then went out for pizza because Adam said he was hungry. When the pizza arrived Adam did not eat any. We went back to the room and got to bed just after 10pm.

Next Page

Back to June