Adam and I slept in this morning until about 8am. Lori went running while I gave Adam his medicine, stim, and exercises. Lori said the running path along Stowe Road was one of the prettiest she has ever seen.

We stopped at McDonald's for breakfast. Then we drove on to New Hampshire. We found Crawford Notch. It was just as beautiful as the last time Lori and I were there 6 years ago. In 1993 Lori and I had passed through here on our way to Acadia in Maine. We walked around the pond. Then I bought some sandwiches for us to take up Mt. Washington for lunch.

Crawford Notch and the pond.
A gorgeous place to stop!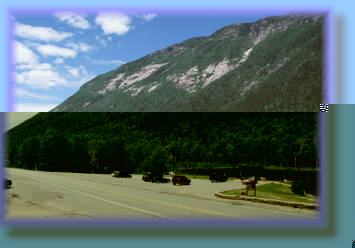 Another view of Crawford Notch.


We drove to the Mt. Washington Road entrance, paid our $26, and started up. Lori was really nervous about the narrow road and drop-offs. Adam had a great time with the drive. At the top I saw a sign pointing to handicapped parking next to the gift shop and observation deck. The short road up from the main parking lot was extremely steep. I was in second gear and had the Tahoe accelerator floored. We were just crawling up. I was afraid to stop moving to shift into first gear. I thought we would not be able to start up without any momentum. It was only a hundred feet or so of road, but I have never in my life driven up anything as steep as this was!

At the top we took Adam in the gift shop. He found a Beanie Baby (Rocket the Blue Jay) like the one he had lost yesterday in Lake Placid. He had been pretty upset about losing the original Rocket Stella had given him. When he saw this one he said "Mom, we should take Rocket the Bluejay home with us, he is cold and lonely up here on this mountain". Of course, we were going to get it for him anyway, but who could resist a statement like that? The new one was a little larger but he felt good about finding a replacement for the original.

The view was fantastic today. Even better than 6 years ago. The Cog Train was loading up for the trip down the mountain. Adam got a kick out of watching it go down.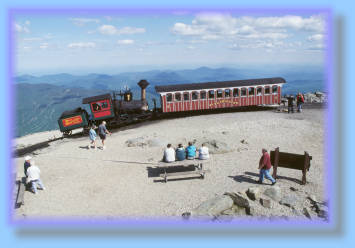 The Cog Train on top of Mt. Washington.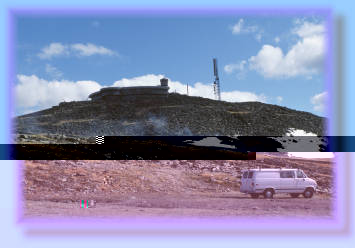 Looking toward the peak of Mt. Washington.

Note the snow still on the ground in June.


On the way down I found the spot where I had taken a picture of a miniature evergreen tree 6 years ago. I think I got another picture of the same tree. Without any perspective you can't tell how tall the trees are. They look very big in a picture but the one I shot is only 6-1/2 feet tall.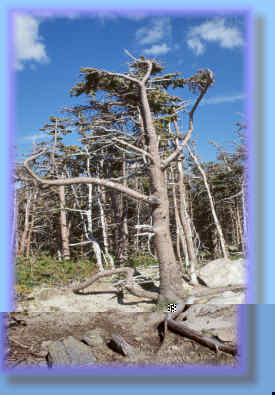 The extreme winds make it hard for trees

to grow. This one is only 6-1/2 feet tall.


After we left Mt. Washington we headed south to find a motel. We stopped in Conway for the night. The motel was better than the first two we had stayed at. It had a view of Mt. Washington, about 15 miles away. We went to The Lobster Trap for dinner. It was OK but not great. After a short walk down the main street we went to bed.

Next Page

Back to June