We got up around 7:30, packed, and left the room by 9. First stop was a bagel shop down the street for a light breakfast. Across the street from the bagel shop was a baseball field with a game going. Behind the field was the Conway Train Museum. This was a special weekend for the museum. The special event was for Thomas the Tank Engine. There was a Thomas engine attached to the end of the main train. About every 40 minutes the train would leave for a 25 minute run with a load of passengers. We asked about tickets but they were sold out until the 4:15 train. Adam got a ride on a little work car. It just went up and down the tracks for a couple of hundred feet. We walked through the fire station. It was next to the train station. The trucks were out and the ladder truck had its ladder up. There were some sheep, goats, and horses behind the fire station. Adam petted the horses and goats. Then we stopped to watch the fast pitch softball game. Adam was very interested in the game and did not want to leave. He watched for at least half an hour.

After Conway we got on 302 and headed for Camp Sunshine. It was only about 60 miles. We passed by the Camp sign and continued on to Portland because we were an hour and a half early for check-in. Portland was not much to see on our quick drive through. There was a festival going on downtown and it was packed with people.

Back at Camp Sunshine we checked in at 2:05. We got a check-in packet and a key to trailer 720. On the way to the trailer we found Laura Bean, the Family Coordinator for Camp Sunshine. I was so glad to finally meet her. She is even more wonderful in person than on the phone. The trailer was nicer than I thought it would be. It was doublewide. Lori was afraid of having to "rough it" for 6 days. The trailer was great. The view was wonderful also. What a great place. No roughing it here! While Lori unpacked the car Adam and I went exploring. When we got back I went for a run. After the run and a shower it was time for the dinner and orientation meeting.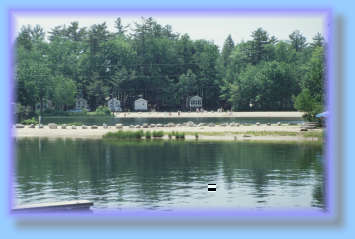 Our trailer is third from the right. It was great!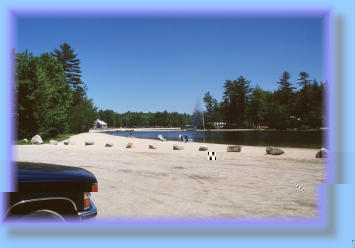 This is the view from in front of our trailer.


Don Thoms, the Point Sebago director, introduced the Camp Sunshine staff. Then there was a performance for the kids. A very talented person did a marionette show. Adam enjoyed it a lot. It rained for a while during dinner and the show. Then we went back to the trailer and bed around 9:30.

Next Page

Back to June