I woke up again when it started getting light at 4:30am. At least it had cooled off a little. Around 5:45 it started to thunder and lightning. The storm was loud but brief. I was out the door at 7 for a run. Lori took Adam in the jogger for her run.

After breakfast Adam went back to the tot lot and Lori and I went to the Parents Group Discussion. We talked a lot about bad experiences parents have had with doctors, nurses, and residents. Both their bedside manner and making mistakes. Everyone had stories to tell!

For lunch we had more sandwiches and snacks like yesterday. During lunch an announcement was made to sign up for the talent show that night. Adam surprised us by saying he wanted to sing a song for the show. We talked with him to make sure he really wanted to do it. Then Lori went to sign him up for the show. I had doubts that he would really get up on the stage and sing.

We came back to the trailer. Lori did some laundry while I exercised Adam. He was all excited to go back to the tot area. The first event in the afternoon was a ride on the Camp Sebago Fire Truck. When we got to the tot area Jenny had brought a Fire Helmet for Adam. Her brother is on the fire department and she brought the helmet for the masquerade party last night. She felt it was too hot to wear but had kept it in her car. Now Adam was really looking forward to the Fire Truck visit.

We left Adam and went back to the pavilion for the Super Duper Blooper Games. Hardly anyone showed up. The Freeloaders only had three members including me. Lori's team only had two. It was very hot and humid again today and I'm sure that had something to do with it. So we went back to the trailer to take it easy for an hour.

At 4pm Lori went on the Ladies Only Cruise. I went to pick up Adam at the tot lot. He was on the swing when I got there. Nora was swinging him and Adam was holding on by himself. Nora was the volunteer dedicated to being with Adam all week. She lives in Portland and is a nursing student. Nora, like all the volunteers at Camp Sunshine, was wonderful. Adam was doing great. Nora kept stopping him every couple of minutes so he could rest his arms. Adam and I came back to the trailer. We washed his hands and got a drink. Then we walked over to the barbecue area for the 5pm barbecue.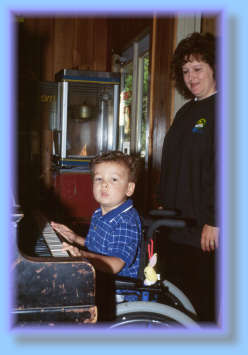 Adam with Nora.


We went to the boat dock to see if Lori had come back because it was 5:20 and they were supposed to be back at 5. The boat was visible out on the water just past one of the islands. It was not moving. I asked one of the marina guys what was going on. He said they had engine problems. The boat called in on a radio while we were standing there. I could here all the women singing in the background as the captain asked for some tools to be run out to him. It sounded like the girls were having a good time. They had left with lots of wine, beer, and cheese. It sounded like the party was in full swing. Adam and I waited for a while on the dock. Then we gave up and went to eat.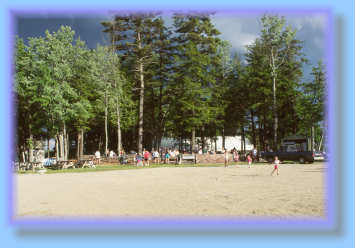 This was the barbecue area.


They were barbecuing chicken, hot dogs, hamburgers, fish, and corn. Adam and I had a little of everything. He ate pretty well. Nora helped us. It started to rain just as we were finishing. It had been warm but not quite as hot as yesterday. And it was a lot less humid. The wind had really come up in the afternoon. The rain only lasted a minute or two. Adam and I went back to the boat dock. The boat was just coming in to the dock. Lori got off and told us she had lots of stories to tell. Some of the girls had decided to go swimming and the captain stopped the boat. One girl went in her underwear. The others went in their clothes. Someone got separated from the boat and was drifting away. She called for help and the captain got very nervous about the situation when he found he could not get the engine started. One of the other girls jumped in with a life preserver to rescue the girl drifting away. Everything ended up all right.

Most of the food was gone but Lori got a little to eat. Adam and I went back to the swings for a few minutes.

We came back to the trailer for a while. Then we went to the end of the entertainment at Chippy's Place. At 8pm the talent show started. Adam was called up first. I think they were starting with the youngest person. He went up to the front of the room with Lori. They gave him the microphone and he sang his song. It was Twinkle Twinkle Little Star. I never would have thought he had it in him to get in front of an audience and do this! The whole audience gave a huge cheer when he finished. I was so proud of him. Laura Bean had said to me a little earlier that the entire camp was in love with Adam.

After his performance he said he was tired. We went back to the trailer and went to bed a little later.

Next Page

Back to June