We all slept in a little this morning. It was 8:15 when we got to breakfast. Adam and I had Cheerios. After breakfast we took Adam to his group. Then Lori and I went to the Parents Group Discussion. They talked about role reversal and I told them what I thought about quitting work and staying home with Adam. We split up into male only and female only groups for a half-hour discussion. Then the groups came back together to share notes.

After group we went to pick up Adam for lunch. We came back to the trailer after lunch then went to the marina to see about renting a Super Lark speedboat. The person at the marina and I talked about it for a while. It was a bit windy and rough out on the lake. When he told me you get pretty wet from spray I said we would not be able to do it because of Adam's cast. Adam really had his heart set on going. He started to cry. We finally convinced him to go out on a paddle wheel boat. It helped when John and Laura, another family we had become friends with, told Adam we could race them. He got excited about that. We took the boat out for about half an hour. Adam told John and Laura to be sure and come back tomorrow for the power boat race. I hope the weather is nice.

Then we went to the arcade room for a short time. The arcade games are free for the campers. Adam did a pinball game. Then I left he and Lori there and went back to the trailer to get ready for a run. I ran through the golf course, even though there was a sign that said no bicycles, joggers, or walkers in the golf course area. It was very quiet and I only saw two cars. The distance to the entrance on highway 302 was about the same as doing it from Camp Sunshine and took 18:45 one way.

After the run Adam and I went outside the trailer. One of our neighbors was getting his fishing gear out. He asked if Adam and I wanted to try. Adam was eager to give it a whirl. He gave me a pole and then cast his line and let Adam reel it in. After making sure I knew how the reel worked I started casting. Pretty soon I was doing what I thought were pretty good casts. It was fun. A few times I thought I had a nibble. I saw fish near shore occasionally. They did not seem interested even when I reeled the lure in right past them. It had probably been more than 20 years since the last time I was fishing. Doing it again made me think I should get back into it.

After fishing we got ready for dinner. We dropped Adam off with Nora. She was going to watch him until 10pm. It was Parents Night Out. All the kids went off to their areas for entertainment after having their own dinner. Parents Night Out was great. The people at Camp Sunshine realize that having a child with cancer strips away most, or even all, of your time to be together as a couple. To just relax and enjoy an evening out. This was their attempt to give us back one night from the "old days" BC (before cancer). It was great.

We waited around until 6pm for cocktail hour. After that we had dinner. I started talking with Daryl. I noticed him wearing a Ranger shirt the day before. He is in the Army and is a Ranger. He is also a graduate of West Point, graduating 10 years ago. We talked a little about Desert Storm. He was a lieutenant then with command of a platoon of 4 M1A1 tanks. Lori got us all a table. His wife's name was Karyn. Their daughter, Kaleigh, had become Adam's best friend the first day of camp. Then John and Laura sat down with us also. Everyone had a good time.

After dinner the karaoke started. The girls who had been on the Cruise Boat that got stuck all went up on stage and did a song about their experience to the tune of Gilligan's Island. Lori went up several times during the event with the girls. She had a great time. Thank you Camp Sunshine for a great Parents Night Out!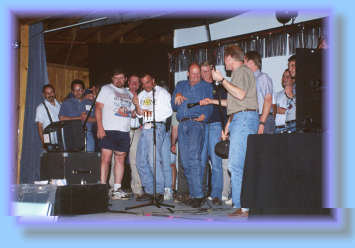 Most of the men onstage for Karaoke.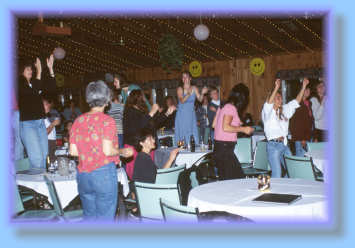 The girls show their appreciation for the
fine performance the men are putting on.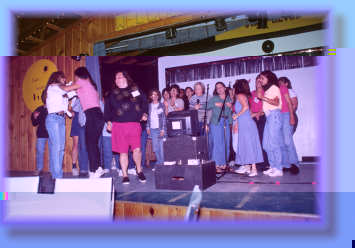 Then it is the girls turn.


We picked Adam up just before 10pm. He was sitting on the floor, watching the movie Babe. It looked like he was having a good time. He really likes Camp Sunshine. On the way back to the trailer he sounded like he was drunk, he was so tired. After taking his medicine and brushing his teeth he fell right to sleep.

Next Page

Back to June