Today was a busy day. Adam built sand castles on the beach in the morning. We had an appointment with a local medical clinic to have the cast cut off. Each cast was only supposed to be on for one week. If we waited until we got home it would be on too long. Laura Bean went with us to show the way. The doctor who cut off the cast had spent some time at Shriner's Hospital in Chicago. He thought it might be beneficial to take Adam there. They have some of the top experts in pediatric neurology and rehabilitation. After talking with him we were excited to go to Chicago. I would make an appointment when we got home. The Shriners had contacted us a few months ago. At the time it did not seem like more could be done for Adam than we were already doing in the Detroit area.

Daryl and I went on the men's cruise in the afternoon. After that we had a short break before dinner. Our last dinner at Camp Sunshine! The week went by way too fast. The hardest thing about Camp Sunshine is leaving newfound friends. It was wonderful to have a week surrounded by people who all understand one another. No one had to explain anything to anyone else. We have all gone through something that is hard to explain to "outsiders". I wish there were a way we could get this group back together about once a month. It would be wonderful therapy.

After dinner everyone went outside to the beach. It is traditional for the children to gather by the water and launch their "wish boats". Each boat had a candle on it. The children built them out of wood, sticks, string, and paper during the week. The candles were lit and the boats launched into the water.

I hope all the wishes made that night will come true.

Tonight each child's group would put on a talent show. This would be followed by the volunteers putting on their own talent shows. Adam's group had been practicing a song all week. He and Kaleigh stood together on the stage with their group. They sang the "Five Brown Buns" song. It goes like this:


| | |
| --- | --- |
| | Five brown buns in the bakery shop, |
| | |
| --- | --- |
| | Five brown buns with the sugar on top (each child rubs the top of their head) |
| | |
| --- | --- |
| | Along came a boy with a penny to pay (they make walking motions with their fingers) |
| | |
| --- | --- |
| | He took one bun and he ran away, (the children run in place) |
| | |
| --- | --- |
| | Leaving four brown buns in the bakery shop, |
| | |
| --- | --- |
| | Four brown buns with the sugar on top, |
| | |
| --- | --- |
| | …and so on |

It was sooo cute to see and hear the children perform this song. You just had to be there. Adam and Kaleigh were great! We sang the song a lot on the drive home. Adam and Kaleigh sat together all night. Adam had told us he loved Kaleigh. They gave each other lots of hugs all night.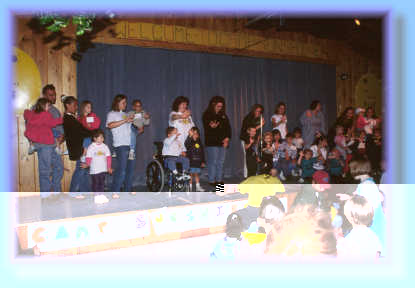 Kaleigh and Adam sing the

"Five Brown Buns" song with their group.


Watching the show was happy and sad at the same time. The shows, and the whole week, were wonderful. We knew that these were special moments in our lives. Moments that could never be repeated. All we would have were our memories. But what wonderful memories they are! We will all do our best to hold on to the sights and sounds, feelings and emotions, of the night and the week for as long as we can. There were lots of tears in the audience that night.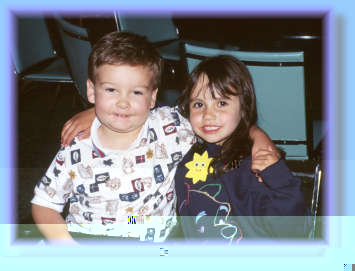 Kaleigh and Adam, best friends.


After the talent show Daryl and Karyn invited us to their trailer for a campfire. Kaleigh enjoyed showing Adam all the toys she had brought with her. It was a great evening. Adam and Kaleigh sat together roasting marsh mellows and drinking hot chocolate. It was a joy for us to watch them having so much fun and so many good laughs. It seemed, for a while, like Adam had never gotten leukemia, like he had never gotten paralyzed, like he was just a normal little boy with his whole life to enjoy.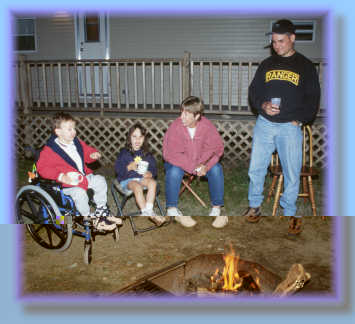 Adam, Kaleigh, Lori, and Daryl enjoy the fire.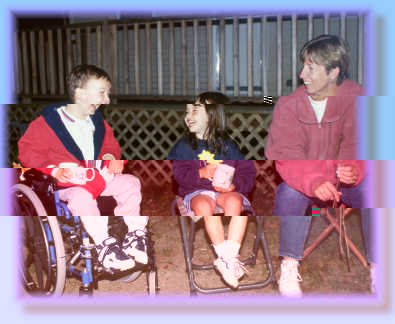 This is one of my favorite pictures. Adam and Kaleigh

share a laugh and look so happy together. This

is what Camp Sunshine is all about.


I know I did not want this night to end. Even though we had a long drive ahead of us the next morning we stayed up until 1am. Thank you Daryl and Karen for sharing the last night of camp with us. We will never forget it.

Next Page

Back to June