After going to sleep after 1am I got up at 6am. The packing went better than I expected. By 7:30 I was done. We went to breakfast but it was a little early. We took a walk up to the new construction to see what Camp Sunshine would look like next year.

Camp Sunshine is constructing permanent facilities. This will allow them to accommodate many more campers each year. The sad part is realizing there is such a need, that so many families have to go through the horrible experience of a child with a life threatening illness.

It was very impressive. However we felt the experience would not be the same. The families will all be together all the time. They will also be quite separated from the main camp and beach. It was really nice to have a small, private campfire last night. I don't think that will be possible with the new setup. Hopefully we will have a chance to come back and see how it turns out, whether for better or worse.

I should qualify the word "worse". Re-reading the above paragraph I can see how it could be interpreted too strongly. Camp Sunshine will still be a place that we would not hesitate to attend. Maybe some of the "atmosphere" will change a little at the new facilities. Or maybe not. But I am absolutely certain that the Camp Sunshine Experience will be the same. We will not miss it if we get the opportunity!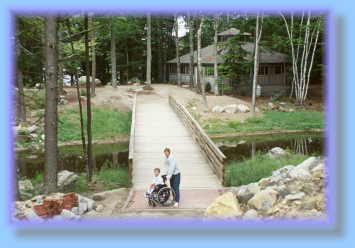 Adam and Lori have just crossed this bridge on the path
leading to the new (still under construction) facilities for
be bought to support the camp. Anyone who buys a
brick can have it engraved with a message.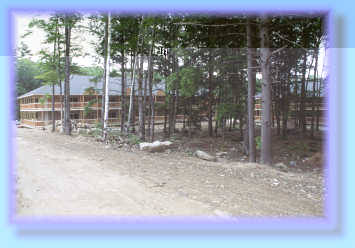 Instead of trailers, everyone will stay in these
buildings starting in summer 2000.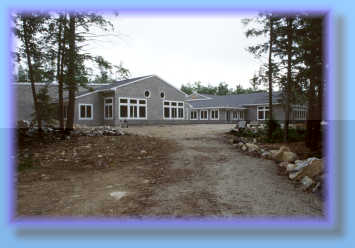 This will be the new activities building. Among

other things it will have a big pool!


When we got back for breakfast everyone was starting to show up. I dropped off our keys. There were name and address sheets for all the families and all the volunteers. I picked up both.

It was hard to see everyone for the last time. You just wish all these great people could be in your lives all the time. I have these vivid memories of faces and events in my mind right now. I know that in time they will begin to fade and I desperately wish that would not happen. Everyone at camp wants to hold on to all that has happened during this magical week. Camp Sunshine is such a wonderful place that you cannot really explain it to someone who has not been there. You have to experience it.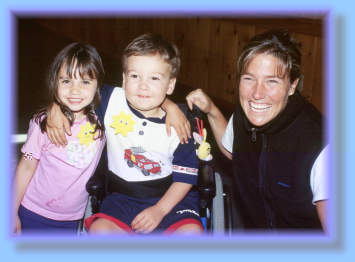 Kaleigh, Adam and Jenny say goodbye.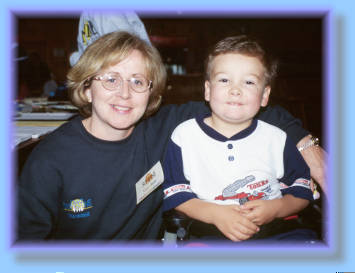 And one last goodbye from a wonderful person,

Laura Bean!


We left about 11:00. When we got to Bridgeton I pulled over and said let's think about going to Acadia. If we go there we will not be that much further from home time wise. We could take the freeway down to Boston and then come across on I-90. This would get us home about as fast as the way we were going by retracing our steps from last week on the trip out. After thinking about it for a few minutes I decided it was not really worth it to only have a day and a half in such a beautiful place. We need more time to do it justice. So we kept on with our original course.

The weather was exceptionally clear. It was very tempting to go to the top of Mt. Washington again. Visibility looked like it must be as good as it ever gets. The temperature was climbing through the 70's. We decided to keep going. Otherwise we would not have enough time for swimming tonight. Now that Adam's cast was off, nothing was going to keep him out of the pool!

Crawford Notch was very beautiful again. We stopped and got out for a short time. There were some baby ducks in the pond. We bought some duck food from a machine and Adam had a great time feeding them. I took Adam over the dam in his wheelchair. He wanted to walk through the woods. When we came back we threw some sticks and rocks in the water. I read a sign on the dam that told how high the mountains were. The one to the right when facing the pond was 3900 feet. The one across the road was over 4300 feet. My GPS said we were around 1000 feet. So the vertical rise we were looking at was at least 3300 feet.

Every time we came to a good view of Mt. Washington I stopped to take a picture. I think I got it from every side but the north.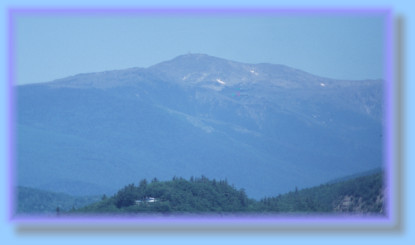 Mount Washington from Conway, about 15 miles away.

The treeline and some snow are visible.


While going through Vermont Adam suddenly got an itch on one of his toes. It quickly turned painful and he started crying. Lori looked at it and thought it might be a bug bite. We pulled over at the next rest stop. I had brought Neosporin and Bacitracin with us. We tried that on Adam and he said it felt better. He fell asleep soon after.

We got on the ferry in Burlington and were 2/3 of the way across before Adam woke up. The area where you board in Burlington was nice. There was a restaurant with lots of outside dining right on the water. It was a beautiful day to eat outside. I told Lori it was too bad the ferry would be there soon. I would have liked to eat dinner and wander around the beautiful waterfront. It was after 4pm and we had not had lunch.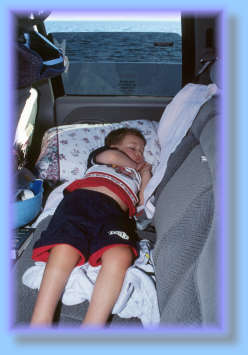 All tired out on the ferry after a

wonderful week at Camp Sunshine!


As we drove on to Lake Placid we had some tremendous views of Whiteface Mountain in the clear air. In Lake Placid we checked out the Mirror Lake Inn. Rooms were $158 a night. We would only be in it a short time so we felt it was too much. The Ramada Inn up the street had a room for $58 so we took it. We ate there also. It was pretty good, although Adam hardly ate anything.

It was 10pm when we got to bed.

Next Page

Back to June