We had breakfast at the hotel. It was a very good buffet. Then we left for Niagara Falls. Adam had never been there. We stopped on Goat Island first. At the base of the falls Adam could see the Maid of the Mist boats. He really wanted to go on the boat. We left Goat Island and headed for the boats. I was really impressed with the boat trip to the base of the falls. Adam was a little scared and wanted to be in the back of the boat. It was very wet and the boat was rocking a little in the currents. But he still had a good time.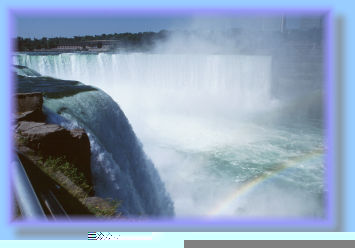 The Falls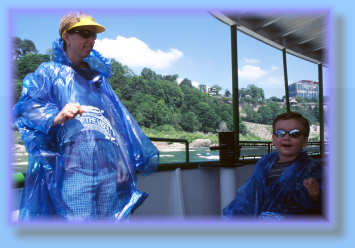 Adam enjoys The Maid of the Mist ride.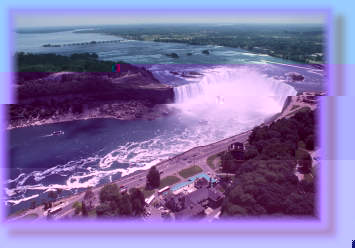 The view from the Skylon Tower.


After the boat ride we crossed the bridge and went to the Skylon Tower. We went up and took lots of pictures. Then we got in the car and headed for Michigan.

We stopped at Grandma's house on the way home. She watched a little of the videotape of Adam at Camp Sunshine. Then we went home and dumped all our gear in the middle of the floor and went to bed very tired.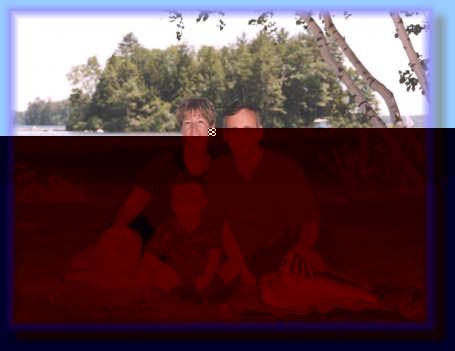 Adam, Lori, and I at Camp Sunshine.
Camp Sunshine finds sponsors to support the cost of a week at Camp for all first time families. They do not have the resources to do this for families that would like to return to Camp Sunshine a second time. However, they do welcome the return of previous Campers. They just ask that the family seek their own sponsorship (corporate or other).
Adam would love to go to Camp Sunshine in the summer of 2000. To do so we need sponsors. If you would like to help sponsor Adam's stay at Camp Sunshine please call the camp at 207-655-3800 or e-mail them at
sunshine@campsunshine.org
.
Make sure they know you are asking to help sponsor Adam Rose.
Back to June