February brought our two-week trip to Florida to stay in Grandpa's condo in Venice for two weeks. Boy, was I ready for a vacation from work by then. We had done major upgrades to the computer network and phone system at work (I am the system administrator for both) with lots of long hours week after week.

Our new Tahoe was delivered the day before Christmas and would be our mode of transportation. It worked out great. We took a VCR designed to run from the 12-volt lighter adapter. It was hooked to a little Casio LCD TV. It kept Adam and Lori occupied for hours. Adam was a good little trooper and the drive went far better than we thought it would.

The day we left Adam's daycare center threw a birthday party for him. Adam was very proud to tell everyone he was going to be four years old. It was a few days early, but he would be in Florida on his actual birthday. Our plan was to pick him up at daycare with a packed Tahoe and head straight to Florida. We got to see his party and then we were off.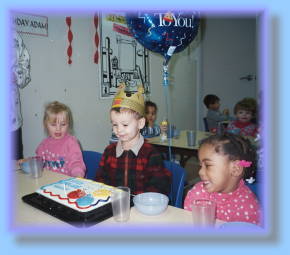 Cake and party number one at daycare.


Ten miles from home we passed a car burning furiously from end to end in the middle of a major highway. Adam still talks about that car fire today.

We stopped in Kentucky the first night. This was one day after the big snowstorm that dumped over two feet of snow in the region. The Hampton Inn had snow drifts 10 feet high with a one lane rut into the parking lot. If we had left one day earlier we would have been stuck. On the second day we made a slight detour near Atlanta to stop at Stone Mountain. We took the train ride around the park but had arrived too late to ride the tram to the top of the mountain. Adam was very disappointed he could not ride the tram. I promised we would do it next time we drove to Florida.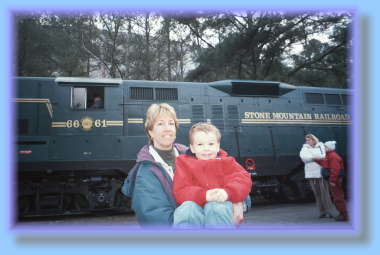 Adam and Mom in front of the Stone Mountain Train.


The weather in Florida was great for two weeks. 70's and sunny almost every day. A few days after we arrived Adam developed leg pains. One day he was fine. The next day Adam had such severe pain he could not walk. The second day he was in pain we took him to a walk-in clinic. The doctor did not know what to make of the symptoms. He suggested we consider going to the emergency room in Sarasota for blood and other tests if the situation did not improve. Adam seemed to be doing better so we went home.

That night he was getting worse so we went to the emergency room in Venice. After waiting three hours to get shown to a room we were told they still did not know when a doctor would be available to see us. Once again Adam was almost back to normal. We decided to go home again.

The next day the leg pains came back. This time we found a pediatrician in the phone book who had an opening the same day. He looked Adam over and told us it was most likely a virus that he had been seeing a lot of. The virus gets into the muscles and causes this type of pain. He said it should go away in three days. Just use childrens Tylenol in the meantime. Sure enough it went away. Little did we know this had been the first sign of something much more ominous.

We took a two-day trip to Miami so I could see the Miami Boat Show. I was considering buying my dream boat finally after years of waiting and wanted to see similar models side by side at the show. Downtown Miami was very nice. We spent an enjoyable evening at the waterfront shopping area. The next day was spent at the boat show. Seeing my two final choices side by side definitely helped me make up my mind which one was right for us. I was glad we went because if I had made the choice without seeing both together I would have chosen the wrong one!

After Miami we took it easy the rest of the time. Lori and I went running almost every morning. We had another birthday party for Adam. This time it was actually on his birthday, February 14. Uncle Leroy and Aunt Marcella came to help us celebrate. They were in the middle of their annual stay in Sarasota.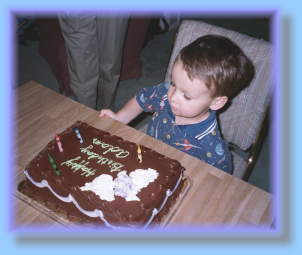 Cake and party number two in Florida.


I think Adam's favorite day of the vacation was the one when we were on Venice Beach and there was a three to four foot surf. He and I would run down to the water's edge when a wave receded. Then run back up away from the next wave. He didn't want to stop for over an hour. When a wave would catch us he would laugh and laugh. We were both soaked by the time it was over and he was shivering but grinning from ear-to-ear.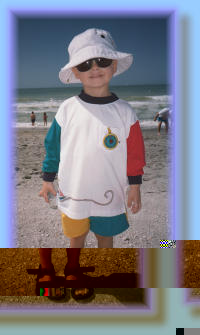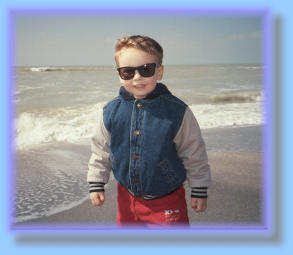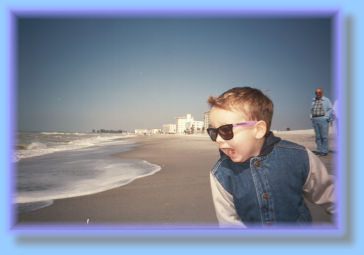 Adam has fun on Venice Beach, Florida.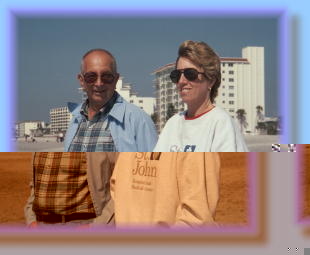 Grandpa and Mom watching Adam.


All too soon the two weeks were up and we packed up to head for home. The trip home went just as smoothly as the trip down. Thank you, Adam.

After we got home we had another birthday party at our house so friends and family could participate. Grandma made a cake that looked like a fire truck. Adam had three birthday parties this year, as he is quick to tell everyone!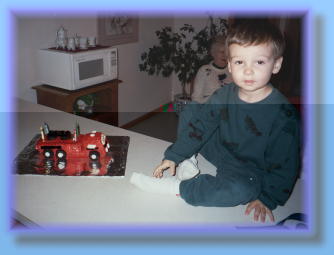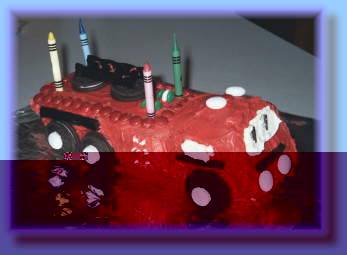 Cake and party number three at home.
Next Page
Previous Page