May went by pretty fast. As you may have guessed by now our whole lives were revolving around Adam. Not that they weren't before. Adam means everything to us and we have been very happy to have him be the center of our lives. It is just that now everything was so much more intense. Our emotions were always going up and down. Tears came very easily and often. Being faced with the very real possibility of losing your only child is something that can't be described. Everything else in our lives was trivial compared to the monster of cancer.

Every week there was a doctor visit or hospital stay to get through. Every day required multiple doses of from one to three different medications. We never had much time to just be together and have fun. We did try to make the hospital stays as easy as possible for Adam. I would usually have a bag with me that had some surprises in it. At opportune moments these could be used to coax Adam into doing something he did not want to do.

Things were kind of settling into a routine. We had been through everything (we thought) and just had to get Adam through the rest of the consolidation phase. We had experienced all the procedures and Adam had been responding remarkably well to all of it. It should have been just more of the same until the end of consolidation in September. By the end of the month Adam was even getting much better about taking his daily medicine. I had thought I would never see this day. We felt there was a light at the end of the tunnel. The odds were in Adam's favor and we would get through this together.

From all the reading I had done I knew there would probably be some kind of setback. It is pretty common for leukemia kids to develop an infection. The immune system is suppressed because of chemotherapy so they are susceptible to all kinds of diseases and have a hard time fighting it off. Blood counts can also get dangerously low at times. When either of these happens chemotherapy may be suspended for several days or weeks. Pneumonia happens quite often and can be extremely serious. I guess I always thought that was what would happen to Adam and would be the worst thing we would face. Now I only wish that could have been the case.

Adam had attended day care up until the diagnosis in March. They wanted to do something for him. It was decided to hold a hop-a-thon to raise money for the Leukemia Society. The day before the event we received a call from the local Fox Network TV news center. They wanted to do a segment on the hop-a-thon and interview Adam and a Leukemia Society representative live on TV the morning of the event. It was all very exciting to go to the Fox broadcast studio and see how they did the morning news. Lori, Adam, and the Leukemia Society representative were interviewed live at 6:40am by Deena Centofanti. It only lasted about two minutes. Adam did great. There was one shot were they zoomed in on his face while he had a big smile. He looked like an angel. We spent the afternoon at the hop-a-thon and had a good turnout. Every hour the hopping contest would begin. Kids would hop for as long as possible with pledge money going to the longest hoppers.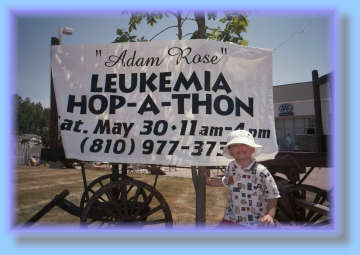 Adam at the Hop-A-Thon.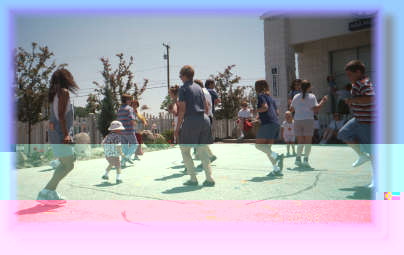 Adam (in white hat) does his turn at hopping.
Next Page
Previous Page