June was our best month so far. As I said before things had become somewhat routine. Adam was still doing extremely well. We took Adam to the annual Bay-Rama parade in New Baltimore. He took all his squirt guns. When the fire trucks passed by he started squirting them. He was having a blast. I kept busy filling one gun while he used another. The firemen really got a kick out of Adam standing on the side of the road firing away with his Super-Soakers. For anyone who doesn't know Adam, he just LOVES fire trucks.

Adam waiting for the first fire truck.


Aunt Cheryl and Cousin Emily came to visit late in the month. We all took a trip up to Mackinaw City. Grandpa Harold, my mom, and my brother John came too. Lori, Cheryl and I ran the Fudge Classic 5k and 10k race on Saturday morning. We had signed up for the 10k. It was very hot and the race was pretty tough. Before the race the organizers announced that the course would loop back near the finish line just before the 5k mark to allow the 5k racers to finish. They said 10k runners could opt to switch races at this point and only do 5k. It was sure tempting! All three of us had the same thought about taking the easy way out and only doing 5k. But all three of us kept going and did the full 10k.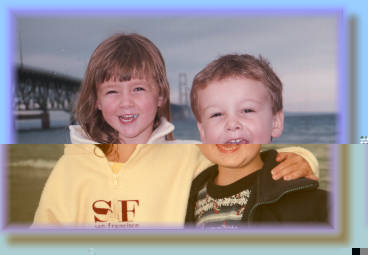 Adam and cousin Emily by the Mackinac Bridge.


While we were doing the race my mom and brother took Adam up to Sault Ste. Marie, about an hour north of the Mackinaw Bridge. The Soo locks are there along with lots of trains and a big switchyard. Many lake freighters pass through the locks every day to get from Lake Superior to Lake Huron. You can get right up next to them while they are in the locks. Adam had a great time seeing everything.

Anyone who finished the 5k in less than 30 minutes or the 10k in less than 60 minutes was eligible for a special run the next morning. At 6:45 am Sunday a Mackinaw Bridge Authority vehicle would lead a group of runners across the bridge! I had always wanted to do this and now was my chance. However, the 10k race had been tough. Sunday morning dawned cool and clear. Perfect for an easy jog across the bridge. Aunt Cheryl was eager to get going. If it wasn't for her I think Lori and I may have skipped the run and stayed in bed. I was pretty tired and stiff from the previous day.

Now, I'm sure glad Cheryl got us out of bed and to the bridge run! We had been told the pace would be easy and the runners would stay fairly close together. It was really a thrill to be running across the bridge. The views were spectacular. About a third of the way across the 5-mile long bridge I realized the lead car was setting quite a fast pace and we were getting really strung out. I decided to see if I could catch the pace car. The race was on. It was gorgeous crossing the bridge and an experience I will never forget. With about a mile to go I had passed everyone but three runners who were right up to the pace car about a quarter mile ahead. I was flying. My pace was faster than it had been for the real race the day before, but it felt great. Running the bridge was just giving me something extra. I tried with everything I had but could not catch the pace car. But I did pass one of the front runners who slowed down. I was third across in 37 minutes. Looking back at the bridge was quite a sight. A line of 100's of runners stretched from me to the top of the span 2-1/2 miles away. So much for keeping us in a close group! We were all glad not to have missed this experience and said we have to try and do it again next year.

Later we took Adam and Emily to Mackinaw Island. Adam loved the ride in the "rooster-tail" ferry. This boat ride takes about 30 minutes. The boat blasts a stream of water about 30 feet into the air and hundreds of feet behind the transom. It is a real hit with Adam. We saw some of the sights, had lunch, and all too soon were headed back to our hotel to pack up and go home.

We had some great squirt gun fights around the house with Adam, Emily, Karen and Katie from next door, and myself. Everyone would be trying to get me and we would run all over the yard. Those super soaker guns can sure put out a lot of water!

Near the end of June Adam developed hand tremors. His hands would shake when he picked up a cup or held a crayon or reached for something. We all noticed it but, when told, the doctors showed little concern. A major setback was coming and we did not realize it. I would give anything to be able to go back to those early days of tremors and change the course of treatment based on what I now know.

Next Page

Previous Page