August was a month of learning and adjustments. We had a lot to learn about paralysis. There were a lot of adjustments to make in our daily routines.

The oncologist had told us that if there were to be any recovery it would probably begin within six weeks. As we passed the six week mark we began to face the fact that Adam would be paralyzed permanently. He was almost a complete quadriplegic at this point. It seemed so unfair that all of his childhood would be taken away from him. There were so many things he would never be able to experience. He had gotten a new bike for his birthday. He loved to ride it. Now we were calling the bike shop I bought it from to see if they could help us sell it.

There is a story behind Adam's bicycle that I would like to expand on.

Adam loved to ride his new bike. I will never forget riding or running along side him and seeing the joy in his face. When we knew he was facing permanent paralysis we decided to try and sell the bike. Lori said we should ask the bike shop we bought it from, Prestige Cycles of Clinton Township, if they could help us sell it. She called them and was told to bring it in. Prestige Cycles would put it on their floor and see if they could sell the used bike for us.

The process of taking the bike back was very hard on us emotionally. It marked the recognition of an end to Adam's normal childhood. From now on he was facing an unknown future with leukemia and paralysis.

Lori took the bike in to Prestige Cycles soon after the phone call. She was in tears as she arrived. The lady behind the counter was soon in tears too. She explained to Lori that the shop owner had felt guilty about only offering to help us sell the bike. She told Lori he would give us a full refund. It was a very tough thing for Lori to go through. I know I would have had a very hard time taking the bike back also.

A short time after, we received a call from Prestige Cycles. They had an idea to help Adam. The offer was to raffle off the bike and give any money raised to us for our medical expenses. They put a sign on Adam's bike summarizing what it was about. Soon the offers were coming in. At the end of the raffle we received a check from Prestige Cycles.

It was one of the first efforts of complete strangers going out of their way to help us after hearing Adam's Story. We were overwhelmed at Prestige Cycle's generous offer. But the story does not quite end there.

The person who had won the raffle wanted to help even more. Instead of taking the bike he told Prestige Cycle's to keep it and do another raffle! So they did it again and we eventually received another check from them for Adam. What a great group of people! Our heartfelt thanks goes to Prestige Cycles and all the people who contributed to the raffle.

Toward the end of the month Adam started to regain just a little strength and range of movement in his upper body. We made another visit to the physiatrist and he was very relieved to see this. He told us he had been very worried about Adam. The paralysis was a lot closer to taking his life than Lori and I had realized. Adam had bottomed out after a close brush with death.

During all this time, from early July to mid August, Adam's chemotherapy had been stopped. The oncologist was doing a fine balancing act between risking a relapse of leukemia from lack of chemotherapy and causing further paralysis because of chemotherapy. The saying "caught between a rock and a hard place" could not have been more true.

After a lot of research and consultation the oncologist finally decided on a course of action. Adam had made it through exactly 2/3 of the consolidation phase of treatment. The final 1/3 would be skipped and he would move right on to the "maintenance" phase. This was the phase that was not scheduled to start until early September. Maintenance would also be modified to no longer include the triple-intrathecal treatments. The oncologist did not want to risk any more damage to Adam's central nervous system. Consolidation was very important but there was nothing that could be done to make it up. The danger to Adam from further consolidation chemotherapy outweighed the increased risk of leukemia relapse.

So now Adam is on maintenance for two years. He receives daily doses of 6-MP (a pill) with weekend doses of Bactrim (a liquid). Every week on Thursday we go to the oncologist's office for a leg shot of methotrexate. Methotrexate (which caused the paralysis) in the leg has not been a problem. The body has a natural filter that prevents any drug from passing from the bloodstream into the central nervous system (CNS). As long as the methotrexate does not get into the CNS the paralysis should not be aggravated. So far he has done fine with it.

Adam now faces an increased risk of relapse. We do not know how much. There have not been enough prior cases like this to come up with any statistics. It greatly concerns us that 1/3 of the most important part of chemotherapy had to be skipped. And also that key elements of the maintenance phase will be missing. But Adam has no alternative. All we can do is hope and pray he remains in remission.

For a normal child with leukemia a relapse is bad news. If it happens in the first year or two the only option is a risky bone marrow transplant. But there is still hope. In Adam's case a relapse is much worse. With the damage that has been done to the CNS it is unlikely he would even survive an attempt at a bone marrow transplant. Nothing else in my life matters other than Adam remaining in remission. I am terribly afraid of what might happen anytime in the next few years. I will be strong for Adam but I know the fear is eating away at me. It is always there and is difficult to put aside for more than a moment.

Adam has always loved fire trucks. He has many toy fire trucks at home. His favorite activity, before the paralysis, was to make a "run" to some point in the house with all of his trucks and put out imaginary fires. Lori's supervisor, Loraine, at St. John knows about his fascination with fire trucks. She stopped by the local volunteer fire department, met with the chief, and asked him if he could do anything for Adam. The chief jumped at the chance to do something for Adam. He (with our approval) proposed a resolution at the next township board meeting that made Adam an honorary fireman. The township agreed and went even further. They also passed a resolution that made September 2, 1998 Adam Rose day in Macomb Township, MI. The chief contacted the local newspapers and one of the Detroit TV stations and they all covered what happened next.

On August 31 at 5:30 the fire department arrived at our house. The chief led the volunteers with his big red suburban, driving slowly down the street toward our house. Next came the rescue truck, the pumper truck, and the ladder truck, all with lights flashing. It was a gorgeous sunny day and I had Adam out on our patio in his wheelchair to see the arrival. I had to fight back the tears when I saw how these guys were going all out for Adam (and I have to fight them back again while I type this and remember it all). The Chief Ray Ahonen and 16 firefighters met Adam beside our house. He read the resolutions to Adam and then gave him some presents. I helped Adam open the first present. It was an AUTHENTIC fireman's helmet, complete with visor, liner, and the name ROSE on the back. I guess they must make some pretty small helmets for female firefighters because it is a little big for Adam but not so big that he can't wear it! His next present was a club style jacket with a fire truck emblem and Adam's name on the front. On the back it says Macomb Township Fire Department. Adam was really warming up to these guys and was telling the chief all about his trucks. They pulled a hose off the pumper truck and let Adam turn on the water and spray the sidewalk. Then they pulled up the ladder truck. I got in first then Adam was handed up to me in the passenger seat. We took a ride around the block. Adam grinned from ear to ear. He arrived back at our house giving everyone a "thumbs up" sign. We were interviewed live on TV and at least three newspapers were there photographing and reporting everything. Deena Centofanti, from Fox2 News was at our house, once again interviewing Adam live on TV. Channel 2 ran the story live at 5:30. They repeated the story at 6:30 and 11:00. Little Caesar pizza donated enough pizza for everyone and Lori had bought a big cake that said "Congratulations Fireman Adam". It was almost impossible to get past our house with all the fire trucks, news trucks, and people. All of Adam's friends were there.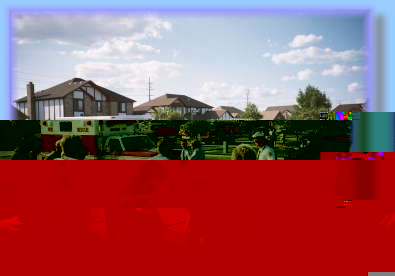 The fire trucks arrive.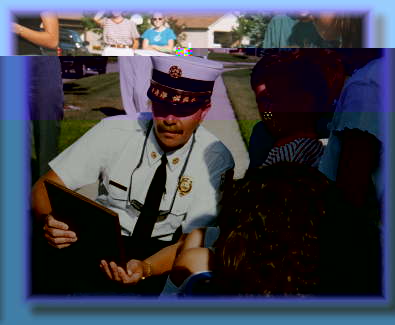 Chief Ahonen reads the resolution making Adam an Honorary Fireman.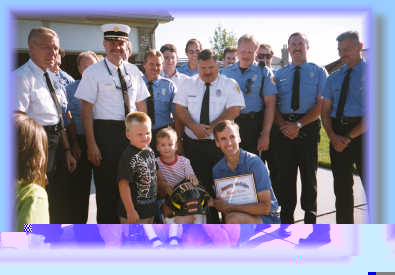 Adam with his new helmet and me holding the resolution,
surrounded by the Macomb Township Firefighters.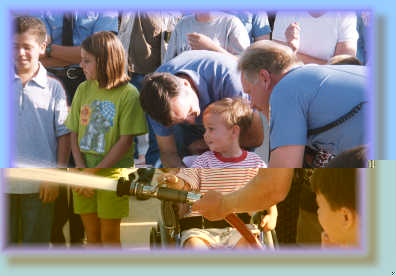 Then he gets to operate the fire hose.
He was so weak it took all his strength to reach out to the hose.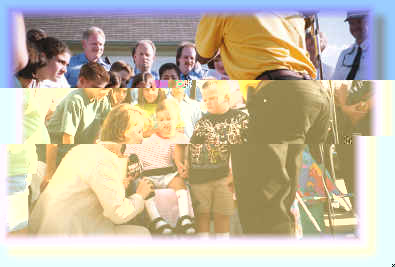 Deena Centofanti interviews Adam on Fox2 News.


It was a wonderful day for Adam. We will remember it forever. Two days later, on September 2, the county newspaper gave the story front page coverage, with a huge color picture of Adam on the front page of The Macomb Daily, spraying the fire hose. We will be eternally grateful to everyone involved. Thank you especially to Chief Ahonen of the Macomb Township Fire Department. He is a wonderful person who truly cares about Adam and wants to do whatever he can to help.

One day I hope Adam can once again play with his toy fire trucks and put out fires all over the house. A few days after the big event there was a beautiful rainbow after a shower passed by. I told Adam to make a wish. He thought about it for a minute. Then he said "my wish is to be a fireman when I grow up". I would give anything to see it come true.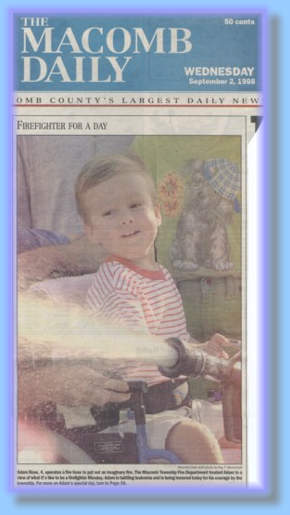 Adam on the front page of our local paper.
Next Page
Previous Page