Adam continued to make small gains in upper body strength. However, his legs remained completely paralyzed. We still had a small hope that he would regain function in his legs but it was growing fainter every day. The doctors were saying they could not rule out some recovery in the legs but it was now extremely unlikely.

Early in September I found an abstract on methotrexate neurotoxicity. I had been searching medical databases on the internet for many hours. Some interesting things had turned up but on this day I thought I had hit the jackpot.

This abstract dealt with methotrexate neurotoxicity in children with leukemia and was exactly what had happened to Adam. This doctor in Texas, who I later found out is one of the leading researchers in methotrexate neurotoxicity, had a lot of success in reversing the paralysis. I immediately called him and was able to reach him within an hour of first finding the abstract. I was so excited and nervous my hands were shaking as I dialed.

He had been able to reverse methotrexate neurotoxicity in a majority of the cases he had applied his techniques to. In talking with him I realized something. The two substances he was talking about that were having positive effects were the same ones that Adam's oncologist had mentioned during his initial stay in the hospital while the paralysis was progressing. The Coke and Robitussen that he had casually mentioned and implied was without merit had far more merit and scientific basis than I had thought possible. Here was a published abstract from a medical journal documenting success.

Unfortunately, this treatment only works if implemented in the initial stages of paralysis. It had now been well over a month since the onset and was much too late. All my excitement came crashing down.

I really believe that when Adam became stable in the hospital, with paralysis in his legs but not in the upper body, it was from us giving him Coke and Robitussen for several days. Looking back on things I know that the paralysis did not get worse while he was taking Coke and Robitussen. After we stopped giving this and had gone home was when the paralysis began advancing again and spread into his upper body. Like I said before I felt like I had made the biggest mistake in my life. If only I had done more research while Adam was in the hospital. I may have found this doctor in time to do something aggressive to help Adam. We would have flown him to Texas without a thought if they could have helped him there. I'll never understand why our oncologist discounted this research. I asked him and got vague answers that did not explain why.

The Physiatrist prescribed a prone stander for Adam. This is a device that holds his body upright in a vertical position with pads in the front, back, and sides. It allows him to put weight on his legs. If the bones in his legs do not do any weight bearing they will deteriorate and become brittle. Adam likes standing up in this device and we try to get him in it at least twice a day for 1-2 hours each time. There is a table attached at chest height. He can play with his cars and toys while in the stander. He also likes to play with a laptop computer I have while in the stander. He is a real whiz with a computer. I am amazed at what he can do for a four-year-old. His favorite program is Tonka Construction Set. He can navigate through it and his other programs like a pro. He found things in the Tonka program and others that I didn't even know where there! I can't wait for him to get a few years older so we can link two computers together and have dogfights with one of the flight simulator programs!

Lori found out that our school system has a special program for children like Adam who have physical handicaps. Kids as young as three can be in the program. Adam would get to go to school five days a week for 2-1/2 hours a day. The classes are small, only two boys and four girls in Adam's class. Most of the other kids have cerebal palsy. With a teacher and two adult assistants, plus some older student assistants, Adam gets lots of attention. The program is great. Adam loves his teacher, Mrs. Cirillo. She is the most wonderful person, and teacher, you could imagine.

Mrs. Cirillo says that kids like Adam have enough strikes against them. Her goal is to give them a head start for kindergarten. She is doing an excellent job. The school also provides physical and occupational therapy for Adam. He also loves the bus ride, and his drivers, Kathy and Stella. We had always told him he would be going to kindergarten on a bus when he was five. Now he is always telling us "I never thought I would get to go to school and ride the bus when I was four". He is so proud and happy with what he is doing.

Adam with his teacher, Mrs. Cirillo.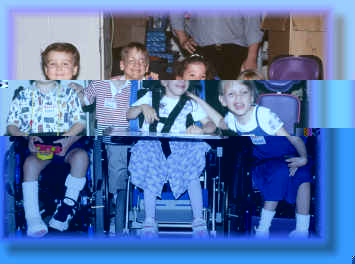 Adam, Sean, Shannon, and Jackie from Mrs. Cirillo's class


Not only does Adam have a great teacher, he has two wonderful bus drivers. He is eager to get on the bus each day. Adam sits right behind the drivers and talks to them all the way to school and home. They really go a long way to make him feel like a special kid.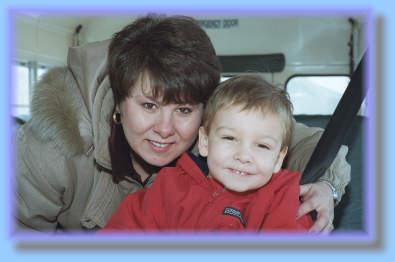 Kathy and Adam. Kathy is the morning bus driver.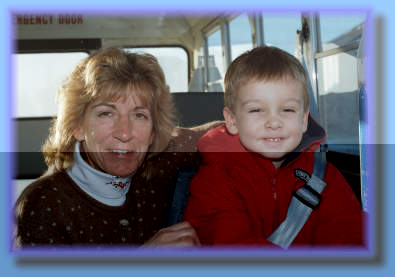 Stella and Adam. Stella drives Adam home in the afternoon.


Chief Ahonens nopped by a few weeks after the presentation on August 31. He brought some copies of Adam's story that had run in some of the smaller local papers. Adam was excited to meet him again. He took the chief into his room to show him all of his fire trucks. Then we went outside and Chief Ahonen showed us the equipment in his Suburban including his fireman's outfit. He said we are welcome at the station any time.

Next Page

Previous Page