Adam has received a wish from The Rainbow Connection. It will be an all expenses paid trip to Walt Disney World in Orlando for 6 days. We will leave on January 20. A limousine will pick us up and take us to the airport. We will stay in a special condo near Walt Disney World that is just for kids like Adam with life threatening illnesses. We have talked with a few others who have been there and it sounds great. The accommodations and treatment you get are first class. Adam will have a special pass that allows him to go to the front of any lines.

Adam was again invited to the Fire Station by Chief Ahonen early in December. They were having a party for all the fire department members and families. Soon after we arrived one of the pumper trucks left to go pick up Santa Claus! A little later they arrived back at the station with lights and sirens going. Adam had a great big smile on his face. All the children went into a room and got to sit on Santa's lap. Then we had pizza for dinner. A call came. Adam was thrilled to see two trucks leave on a run. Later they came back. It had been pouring rain and the trucks were all wet. The firemen all got rags and began to dry off the trucks. Adam and I got rags too and helped out. He was excited to have a real fireman's job to do. He got a real kick out of seeing how they refilled the pumper truck.

During the party a police car arrived. After talking with Chief Ahonen, Deputy Christopher Rojem walked over to see Adam. He said "So this is the Adam I have been hearing all about". He asked if Adam would like a ride in his police car. Do birds fly? Do fish swim? OF COURSE! He said he would call us and arrange a ride.

Thanks again, Chief Ahonen, for including Adam in the fire department "family". It may seem like a simple thing but it means a lot to Adam. He talks about being a fireman all the time. You have made a big difference for him.

A few days later Deputy Chris arrived for the big ride. He put Adam in the front seat and they took off. Adam was turning on the lights and sirens and making real calls on the radio. He came back about twenty minutes later. As they came down the street I heard Adam say "Hi daddy" and then "that was fun" over the PA system in the car. He was having a blast. They had met Deputy Lori down the road and she pulled up a minute later, along with another car with two more deputies in it. Adam was enjoying every minute of it. Deputy Lori was telling us what a great boy Adam was and how cute he was. She said "I get to take him for a ride next time" I thought what Deputy Chris had done was great but he said "we're not done yet" and they took off for another fifteen minutes. When they came back he told Adam they were partners now. Then he gave Adam his spare set of handcuffs. He said make sure you don't lose the key because THESE ARE REAL CUFFS. We got some great video of the whole event. Then he told Adam he had a friend with the Warren Police Department who flies the police helicopter. Would Adam like a ride? Do birds fly? Do fish swim? Of course!

About a week later the helicopter ride was all set for 6:30 pm. The helicopter is kept at Berz-Macomb airport just a mile and a half away. We met Deputy Chris at the airport and he took us in to meet Officer Keith of the Warren Police Department. We got in the helicopter with Adam sitting in my lap. Officer Keith took off into the night sky and then showed Adam how to turn on and control the spotlight. We flew over our house and I helped Adam shine the spotlight on it. Adam was not saying anything and I thought he might be a little scared. The ride was smoother than I had thought it would be but the helicopter was very noisy. I asked Adam how he was doing and he said "Great, I don't want to land". I'm glad he was enjoying it. We flew over Lakeside Mall near our house and then worked our way back to the airport after 15-20 minutes. What a great event for Adam. Deputy Chris told us if there is ever anything he can do to give him a call, at home or work. What a great guy!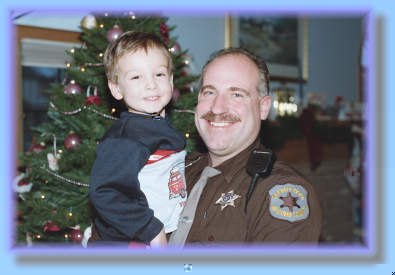 Adam with Deputy Chris


Adam had been presented with a gift at the Fire Station Christmas party. Mark and Kim of the Fire Department also own a limousine company. All the firefighters chipped in to donate a three-hour ride in a limousine, with a stop for pizza wc476ver we wanted, to see Christmas lights. We took the ride last week. Adam was very excited about it and we had invited a number of his friends to accompany us. They included Sean (with cerebral palsy) and Caleb (with leukemia). It was a bus style limo, because that is what Adam wanted, and could hold about 20 people. We went for pizza and then took a drive to see the lights. Our driver Rich was great. He was genuinely thrilled to be doing something for Adam and was very emotional in saying goodbye that evening.

Christmas is almost here and Adam is getting very excited. This is the first Christmas where he is old enough to understand it and what is going to happen. I am going to be just as excited as he is on Christmas morning. Having a son like Adam is by far the greatest thing that could ever happen to me. He frequently tells Lori and myself that he loves us. It is a joy to hear those words and realize we are doing enough things right to get these unprompted words of love from a bright, caring, loving son. I hope he will get to see many more Christmases.

As I said at the beginning, we are ending the year on a positive note. Adam remains in remission. He is paralyzed and will probably never walk again, but continues to regain upper body strength. Adam is a fighter and an inspiration. He is very happy and lots of fun to be with despite what has happened to him. He just doesn't let the bad stuff bother him.

I give Adam all the love I can every day. No one can tell us how many days lay in front of us. Each day with him is precious. I try to soak up every experience and store them all away. We will do our best to make each new day a special one. One that has us sharing our love, adventures, and good times together.

We have met some wonderful people this year who have gone above and beyond the call of duty to help Adam. And help they have. Our spirits and his have been lifted by the kindness and generosity shown by Chief Ahonen and the firefighters, Deputy Chris, Mrs. Cirillo, Aunt Cheryl and Emily, Loraine, Dawn and Gina (OT and PT), Pam (PT), Brian, Casey the Clown, bus drivers Kathy and Stella, all the great nurses at the hospital, and all the others, some mentioned and others not. Most of all thanks to Grandma and Grandpa for always being there. There really are good people in this world who care.

So far this year Adam has spent over 30 days admitted to the hospital. One of us has been at his side almost every minute of every day. We love him more than we could have ever imagined. He has met and overcome more challenges in the last 9 months than many people see in an entire life. I am so proud of my little boy. He has a very positive attitude and almost never lets things get him down. Quite an accomplishment with all he has been through. He is my hero.

This story has gotten much longer than I thought it would. For those who got this far I hope it was not too boring. I think I could turn it into a book. The more I read it the more I think of things to add. I'm not sure why but it has been good therapy for me to put it down on paper. Thank you all for reading it.

The Story

Next Page (start 1999)

Previous Page