| | | |
| --- | --- | --- |
| | • | Adam: |
Watching Power Rangers on TV
Playing with Hot Wheels Cars (he has literally hundreds of the cars!)
Computer Games (Tonka Construction, Monster Truck Madness)
Playstation (Need for Speed III, Spyro)
Reading at bedtime
Drawing with crayons and colored pencils: samples
Swimming


| | | |
| --- | --- | --- |
| | • | Mom: |
Reading
Running
Swimming


| | | |
| --- | --- | --- |
| | • | Dad: |
Reading: fiction, science fiction, history, techno-thrillers. Some of my recent favorite books, in no particular order, include:


| | |
| --- | --- |
| Title | Author |
| Arc Light | Eric Harry |
| The Truth Machine | James L. Halperin |
| Voyage | Stephen Baxter |
| Vertical Run | Joseph Garber |
| Hindenburg - An Illustrated History | Rick Archbold |
| Choosers of the Slain | James H. Cobb |
| Rally Cry | William R. Forstchen |
| War at Sea | Nathan Miller |
| Contact | Carl Sagan |
| The Forge of God | Gregroy Benford |


My all time favorite book, for almost 30 years now, has been Dune by Frank Herbert. I have many other favorites. If you would like to swap lists, or talk about good books, e-mail me.

I love Amazon.com for the prices, selection, and user reviews. If you like books and haven't tried them yet you are missing out on a great web experience:

Amazon.com

Running

I started running off and on in 1976. I got serious about it in 1982 and have been running continuously since then, except for the occasional injury.

Favorite running shoes - Asics GTII, New Balance 851. I must have gone through over 20 pair of the GTII until Asics stopped making them. I never thought I would find another shoe I liked as well until the New Balance 851. Unfortunately it has been discontinued and the replacement (852) does not work as well for me. I recently bought a pair of Asics DS Trainers. It looks like I have finally found a shoe that I like better than the New Balance 851! They have the roomy, flexible forefoot I like. I also like lots of cushioning, like the 851 had. The DS Trainer, even though it is not known as a cushioning shoe, has an extremely smooth strike, roll onto the sole, and pushoff (no slap). This make for a very soft, cushioned feel that I love. Plus they are much lighter than the 851's. Good job Asics!

Worst running shoe - Asics GTIII. A disaster. Nothing at all like the GTII. Over and over these shoe manufacturers ruin a good shoe by "improving" it.

A good place to read runners comments about various shoes can be found on the Road Runner Sports site. I have ordered many shoes from them also. They do not always have the best price, but the service and return policies are excellent. If you buy a shoe from them and do not like it they will take it back and give you a refund. Try that in a running store! They are at:

Road Runner Sports

If you are in Michigan and are a runner you can't miss this site:

RunMichigan

They have all the race results and schedules of upcomming races.

Some of my times:
Best 10k - 39:22
Best 1/2 marathon - 94:12
Best 4 mile - 24:59
Recent runs -

| | | |
| --- | --- | --- |
| | • | Mackinac Island 8 mile, September 1999 - 58:28 |
| | | |
| --- | --- | --- |
| | • | New Baltimore Jingle Bell 5k, December 1999 - 20:31 |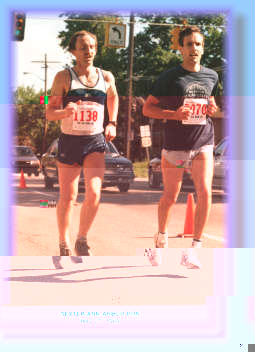 One of my best friends and I approach the finish

of the Dexter-Ann Arbor half marathon in May of 1989.

Bill is on the left. It was one of my best races. We did

the last half at a faster pace than the first half. No one

passed us in the last 5 miles. I'll always remember it.


Photography

I made the jump to digital photography with a Canon Pro 70 in July 1999. I have had SLR's since 1972. A good site for digital camera reviews can be found at:

Digital Photography Review

There is some useful information in the rec.photo.digital newsgroup too.

To buy equipment B&H Photo in New York has been good for me. They have good people, good prices, and a great return policy:

B & H Photo


Sailing

Lori and I raced a Hobie 18 for 10 years. Some of our accomplishments include:
1st place, overall season (two times) - Hobie Division 10
5th place - 1991 Canadian National Championships
17th place (out of 68) - 1990 United States Championships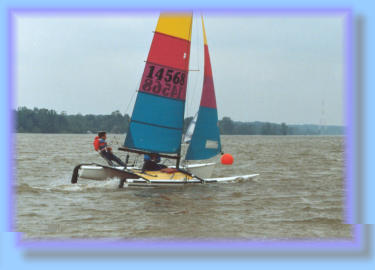 Lori and I rounding a mark on the race course.
I enjoyed every minute of racing for 10 years.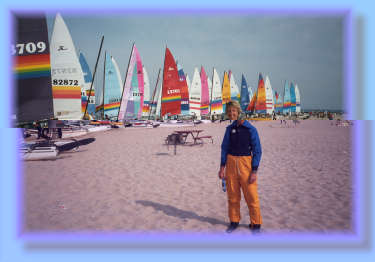 Lori suited up and ready for a Hobie Regatta on Lake Michigan.

Some of the larger races, like this one, had over 100 boats competing.


We came pretty close to getting our dream boat, a Corsair F-28R. Maybe we will get another chance someday, and I can take Adam sailing under the Mackinac Bridge.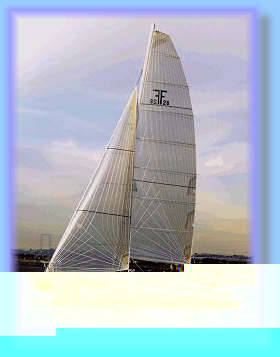 My dream boat, the Corsair F-28


Computers

I build all my own PC's from the basic components. This lets me choose what is best and most important for my needs. It also helps when something goes wrong. I can troubleshoot and fix problems more easily than I could with a brand name system. My current recommendations include Asus motherboards, IBM hard drives, Corsair RAM, and PC Power and Cooling power supplies. Hint: don't skimp on the power supply. A good source for components is:

ESC Technologies

A good all around computer site is:

ZDNet

Another site I visit often is:

AnandTech

It is run by Anand Lal Shimpi. He started it when he was 15 years old. It soon became one of the most popular sites about PC's on the web. The guy has an amazing amount of energy, enthusiasm, and knowledge.

Internet
This section will be a smorgasborg of some interesting web sites. Let me know if you have any others.

One thing I have been wanting to do lately is get into online trading. But how? Where do you seperate the good online brokers from the bad? There have been a few reviews in some computer magazines of brokers, but they did not seem very complete. Then I found this site:

Gomez.com

They rate and rank almost every broker monthly. There is also a lively discussion forum for each broker.

I have looked extensively for a kids site that would have lots of software for Adam to try, either freeware, shareware, or demos. Just recently I found:

TUKIDS!

This site has just what I have been looking for. I recommend checking out some of the paint programs. Adam loves Le Paint Petite, Castle Creator 3d, and Child's Play 4.

I like to view this page occasionally because it has live cams of two of our favorite places, The Mackinaw Bridge and Petoskey. Check it out:

Freeway.net

Did you ever wonder what your neighborhood looks like from space? You may be able to find out from this site:

Terraserver

You can zoom in on specific areas with enough detail to pick out houses and cars. Microsoft created this database to show off their technology. When I first found it they claimed to have the largest database on the internet, over 1 terabyte.

Here is a great science site:

Science Daily Magazine

There is a lot of content at Science Daily and they seem to update it frequently. I have found some interesting science articles that are relevant to Adam's leukemia and paralysis here.

How would you like to use your idle computer power to help with The Search For Extraterrestrial Intelligence? The SETI@home site has a small program that you download and install as a screen saver. Whenever your screensaver comes on you will be processing radio telescope data. It is fascinating. This is how it is described at the SETI@home website:

SETI@home is a scientific experiment that harnesses the power of hundreds of
thousands of Internet-connected computers in the Search for Extraterrestrial
Intelligence (SETI). You can participate by running a free program that downloads and
analyzes radio telescope data. There's a small but captivating possibility that your
computer will detect the faint murmur of a civilization beyond Earth.

I have been running the screen saver since mid-summer. It takes about 40 hours to process a "work unit" of data on my PC (Pentium II 333). When processing is done it is uploaded to the SETI@Home site and another "work unit" is downloaded and processed. As of November 17, 1999 I have processed 43 work units using 1866 hr 52 min 42.6 sec of CPU time. You too can join in the search! Go to:

SETI@home

Be the first on your block to discover Extraterrestrial Intelligence! Anyone remember the movie Contact? One of my favorites! A great movie and great book.