For months now there is only one thing Adam has wanted to be for Halloween. His superhero from the Power Rangers - The Magna Defender

Magna Defender Adam!


Recently Adam began using a new brace that, with a lot of effort on his part, lets him stand up and walk a short distance. It is called a Reciprocating Gait Orthoses, or RGO. His legs are locked in place and he walks by rocking slightly side to side. As he rocks he also leans back slightly. The leg with no weight on it is thrown forward by the brace. He has walked outside on the sidewalk for about 50 yards. We try to practice in the house or outside every day. It always amazes me that a five-year-old, who is totally paralyzed from the waist down, is able to do this!


Click on the image above to see an animation

of Adam walking. It is over 700k in size and

may take several minutes to download.


My brother, Dan (Adam's uncle), has been a Shriner for a number of years. On December 11 1999 he was honored to accept the nomination to Worshipful Master of Ashlar Lodge. The Installation Ceremony was at Masonic Temple in Detroit.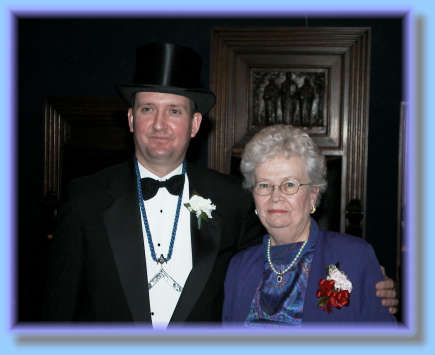 Newly Installed Worshipful Master Dan
with my Mom after the ceremony.
Adam with (from left) me, Uncle Dan, and Uncle John.


Another wonderful event occurred on December 11. Several months ago we were introduced to the Laux family. Their son, Steve, suffered a spinal cord injury in the summer of 1998. He has been a quadriplegic since. Lori was interested in comparing notes with Ron and Ann Laux, Steve's parents. Steve came to our house to visit with Adam one day. His motto is "No Limits". Steve is working on his Masters Degree in Biomedical Engineering at the University of Michigan. Shortly after his visit Ann Laux called us and said Steve wanted to do something for Adam. His idea was to build a ramp for Adam to be able to wheel himself in and out of the house.

Steve is a member of the Epeians. It is a group composed of University of Michigan engineering students. The Epeians wanted to do a group project to design and build a ramp for Adam. After several weeks of hard work the ramp was finished and ready to be installed. A number of the Epeians, along with Steve's brother-in-law Tim, arrived at our house on Saturday morning to do the final assembly. Tim is an experienced carpenter and had contributed a lot of his expertise to the project.

The ramp has been great for Adam and us. We did not realize what we were missing by not having it! We will be eternally grateful to Steve "no limits" Laux and the Epeians for donating lots of their free time (something I know is in very short supply for engineering students!) to design, build, and install the ramp for Adam.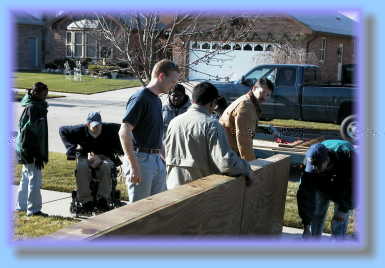 The Epeians begin final installation of the ramp.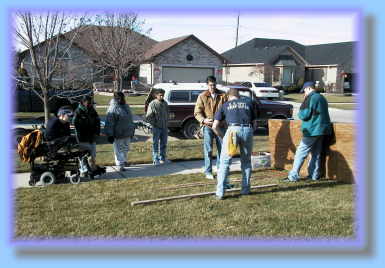 The ramp was brought in sections
and had to be put together.
The largest section is put in place.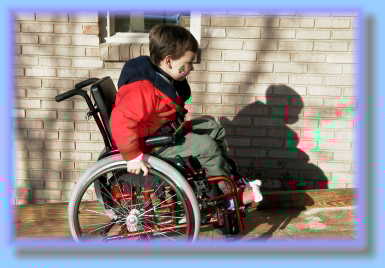 Adam wheels up the ramp for the first time. This actually
takes quite a bit of strength for a 5 year old. It gives
him a great sense of accomplishment to do it.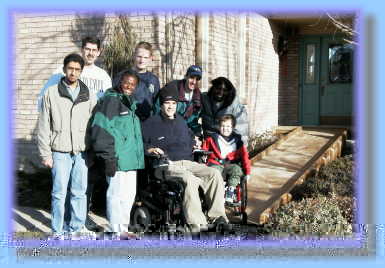 A group shot of the Epeians (and "special consultant"
Tim - back row, left) with Adam and his new ramp.
Steve is next to Adam. Thanks everyone!
Current conditions where we live.