Lori went running at 7:00 this morning. Adam wanted to get up a little later. I got him dressed and ready to go. We went to the Gingerbread House and had breakfast. When we got back from breakfast there was a salamander on the wall inside our condo. Adam got a big kick out of watching Grandpa try to catch it in a cup. At one point it jumped off the wall onto Grandpa and then on Adam. Finally he had it on his arm and took it outside.

Around 9:30 we left for Disneyland and the Magic Kingdom. After parking Adam had a choice of taking the monorail or riverboat into the park. He chose the monorail and really liked the ride.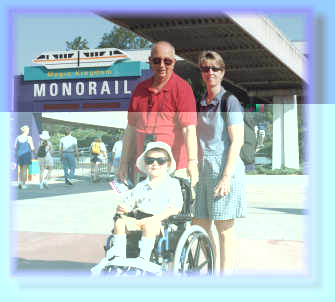 At the park entrance


In the park we walked down Main Street to the Castle and arrived just as the "Holidays" performance was starting (11:00). It lasted about 20 minutes. We then walked to Tomorrow Land. On the way we passed a go-Kart ride. Adam really wanted to do it so we thought we would see how his pass was going to work. Each child in GKTW Village is given a special pass. It is a large button that is pinned to their shirts. The pass allows the child to go to the head of any lines. The operators could not have been better. They took us right to the front of the line. Adam and I got in a white car. We were the first of a large group to pull out of the start area. For Adam the race was on. He called his car Speed Racer (after the cartoon) because it was white. It was a great ride for him and he steered the whole way while I pushed the gas pedal. As we neared the end he started asking if we could do it again. I said we could come back in a little while. However, when we got to the finish the man who had put us in the car asked if Adam wanted to go again! So off we went.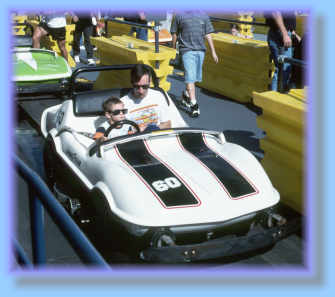 Adam and I in his "Speed Racer" car.


At Tomorrow Land we took an elevator up to what we thought was a moving car ride around the area on level two. The elevator went up to level three which was a rocket car ride. It was just the kind of ride Adam likes. He and I rode in one car and Lori rode behind us in another car. It went pretty fast and made me a little queasy. Then I tried to take a picture. Looking through the camera lens while the ride was going instantly made me very sick to my stomach. I had to take it easy for a while and let my stomach settle down after that!

The Rocket Car ride in Tomorrow Land.


Then we tried to go into the Buzz Lightyear Headquarters. Adam got scared on the way in so we backed out. The lights and noise were too much for him.

After that we went on the ride we thought we had been getting on when we ended up on the rocket cars. The moving car ride circled around Tomorrow Land, going through the Buzz Lightyear Headquarters, Space Mountain, and other areas.

Adam and Lori went on a big carousel next. Then we got on the steam train for a trip all around the park. Another family we know from Michigan was getting on the same train and spotted us. What a coincidence. We rode together. They were on their way to the entrance to leave after being at Disneyland for quite a few days. They told us the Buzz Lightyear Headquarters was her favorite ride and you get to shoot lasers. This made Adam want to give it another try. It went OK this time. Before we left Tomorrow Land we had hamburgers in the cafeteria.

On the way to other areas of the park we passed by the Magic Castle again. Adam threw a penny in the water. His wish was to be able to move his toes.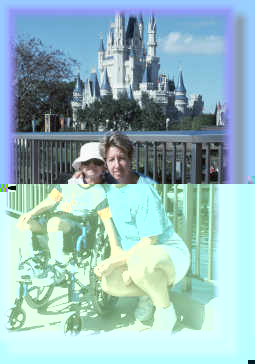 Adam and Lori in front of the Magic Castle.


Other rides Adam went on included the log car water ride, steamboat ride, and Thunder Mountain roller coaster. This roller coaster was in the form of a train. Adam liked them all.

On the way to the exit we stopped at the fire station store. Adam found a book about fire trucks that included a toy fire truck. He really wanted it. We had not bought anything else for him and this was the first thing he asked for all day. So of course I got it for him.

I asked Adam if he wanted to take the monorail or riverboat back to the parking area. He wanted the monorail again. While in line the attendant asked him what had been his favorite ride. Then she asked if we would like to ride in the pilot's car. She said she wanted to make it Adam's favorite ride. So we went back in the pilot's car. The pilot gave each of us a card that made us official co-pilots when we got off. Adam thought it was great.

When we came back from the Magic Kingdom there were new gifts for Adam on the table in our condo. It was a hat that lights up with LED's and an ET book. Adam wore it to dinner. Each day a surprise gift is left in our condo for Adam to find when he gets back from the day's adventures.

Santa and Mrs Claus made a visit to the Castle tonight after dinner. Adam was first in line to meet him. He let Adam choose any stuffed animal he wanted from a gift table. Adam chose TAZ.

Tonight the mayor of the village, Mayor Clayton, came to tuck Adam into bed. He played a little with TAZ and made Adam smile. He listened to Adam say his prayer and was here for about ten minutes. Adam received a postcard of the mayor. It was one of the many nice touches that the village does.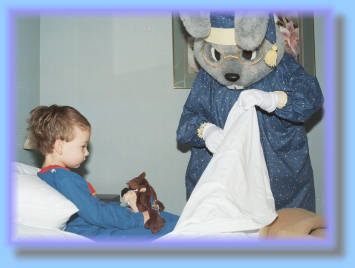 The Mayor tucks Adam into bed.
This is great, keep going!
Can't stop yawning, take me back