Adam did not wake up until almost 9:30 this morning. He and I had cereal in the condo that Lori brought back. As soon as we could get ready we left for Universal Studios.

We arrived at Universal Studios around noon. The Hanna Barbara ride was near the entrance so we went in there first. It was the type of ride where a movie is shown and the seats move in relation to the action of the movie. Adam seemed to like it. I was not sure a few times during the ride if he was going to be OK. When it was over he said it was good. There was a shop on the way out and he found a Scooby-Do Helicopter he wanted. I said we would get it on the way out of the park, which we did.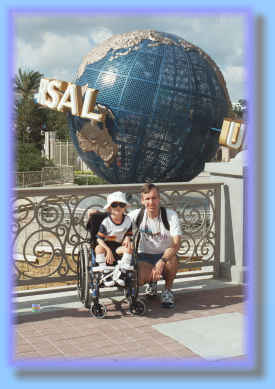 In front of Universal Studios.


Next we tried to get in the line for the Earthquake ride but Adam did not want to go. I think he had both fun and was scared by the Hanna-Barbara ride and would not go on any others. Even the Barney and ET rides he said no to. So we just walked around the park and then left. Altogether we were only in the park for a little over an hour. I'm glad it was free for us, although grandpa Harold had to pay $42 to get in.

The Hard Rock Café was near the entrance so we decided to use our invitation letter for a free lunch or dinner. When we checked into GKTW Village we were given a packet with lots of tickets and passes to area attractions. One of them was an invitation to The Hard Rock Café. We were seated right away because of the letter. Adam held his ears the first few minutes because of the loud music. Then he got used to it. He ate most of a hot dog and some french fries.

We went back to GKTW village and took Adam swimming. It was partly cloudy and about 80 degrees. Adam was in for over an hour and did not want to get out.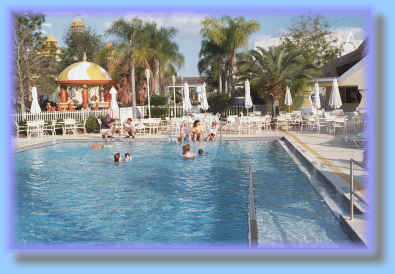 The pool at GKTW Village.


After dinner we played some more air hockey. Then Adam went fishing. He only tried it for a little while. By the time I got to the dock to take pictures he told me the fish weren't biting and he was all done.

Tonight's event in the Castle was a presenta are by some race car drivers. Each night there is a different event at the Castle, all done by people volunteering their time. We went in to see it. Tom Bryce was one of the drivers. They had a little go-Kart type car on the stage. Each child got to sit in the car. They also got to put on a real helmet and get autographs.

Adam went back into the game room for a while and played a game on the computer. There are half a dozen PC's in the room. They had all been down for repair since we arrived. Tonight one of them was back in operation. It was a helicopter shooting game and Adam had a good time playing it with Jacob. After playing they both went to the ice cream parlor.

Wow, what a story, keep going!

Stop the bus, I want to get off!