After breakfast we went to Animal Kingdom. The first thing we did was the Safari Ride. We were in big trucks with eight rows of bench seats. In the fifteen to twenty minute ride we saw quite a variety of animals. Lions, elephants, zebra, giraffe, hippo, antelope, and more. At the end the driver pretends to be helping catch some poachers that had been talked about on the radio. Adam thought that part was great and talked about it several times during the day.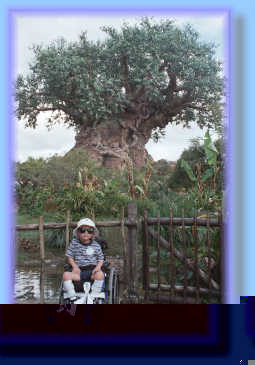 Adam in front of The Tree Of Life.


Next we took a train ride to Conservation Station. It is a working research area and was very interesting. In the back they had a petting area. Adam got a big kick out of all the billy goats. He had a great time petting as many as he could get close to. When we finally left he kept saying goodbye to each one as we passed by. Billy goats are always his favorites because he loves the story of The Three Billy Goats Gruff.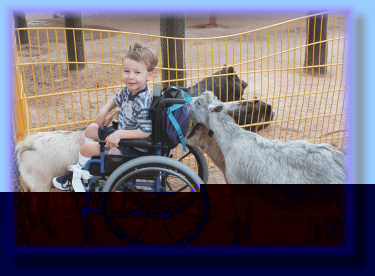 Adam with the billy goats.


On the way to Dino Land we stopped at McDonald's for lunch. Grandpa Harold bought two Happy Meals so Adam could get the Dino squirt guns that came with the meals. Jacob and his brother had had them the day before in the pool and Adam really wanted one. We walked through a large display area of skeletons that was very interesting. All the different areas of the park are very well done. Then we tried to get Adam into the Dino ride that goes back in time to capture a dinosaur. Adam was just a few inches too short for the ride. Lori and I did it alone while grandpa watched Adam. We were lucky we did not try and take him. It ended up being far too scary for him.

We tried to do the Bugs Life show next. It is a 3-d show with lots of effects like wind blowing and water spraying. Adam got really scared right away and we had to leave after only a few minutes.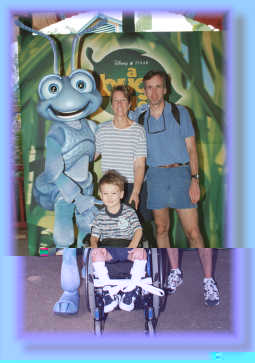 A group shot with Flik.


Then we went to the Micky and Minnie Camp. One of the guides helped us get Adam to all the characters. When Lori said she wished we had not forgotten Adam's autograph book she got one from one of the vendors and gave it to Adam. He ended up meeting Micky, Minnie, Chip and Dale, Tigger, Pooh, Ee-ore, and two others I can't remember. I think he really enjoyed it, although I could see that mind going, wondering if it was real or not. Dark clouds were coming and it was starting to sprinkle. The guide went and got a poncho for Adam and a bag for me to put the camera in. She was great. Whenever a Disney World employee sees a child with one of the GKTW passes they go out of their way to help. We met lots of wonderful employees of the parks.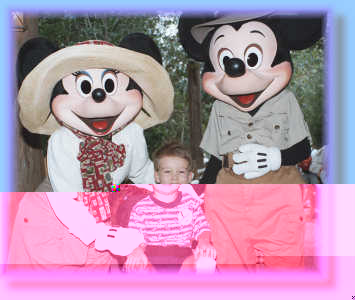 Adam at the Mickey and Minnie Camp


The weather report had been bad for the afternoon so we decided to leave. On the way over the bridge out of Mickey and Minnie's Camp you can see blasts of fire from a cave in the bank of the river. I told Adam a dragon was in the cave. He wanted to know if it was real or not. So I said it was.

It began to rain really hard so he and I ran the rest of the way to our rental van. In the van he asked about the dragon again. I knew he had been thinking about it and trying to reason out just how real it was. He wanted to know if the dragon would come out of the cave. I told him the dragon would never come out in the rain. The rain would put out it's fire. Then I told him it would also never come out knowing Fireman Adam was in the park. If it did Fireman Adam would put out the fire. And if the dragon tried to cause any trouble Fireman Adam wouldal,Hl his buddy Chief Ahonen and the pumper truck would get the dragon. He was really getting into this story and we expanded on it for some time. He is so proud to be a Fireman.

Back at the condo it rained off and on the rest of the evening. Adam and Jacob sat together for dinner in the Gingerbread House. After dinner they went to the Castle and played air hockey for a while. Then they played at the Lego table. After that they played with balls and hoola-hoops on the main floor.

Jacob and his family came into our condo for a short visit before Adam went to bed.

Half done! Can't stop now

Yes I can stop! Back to January