This was our last day in Florida. After breakfast we packed up and checked out. Grandpa Harold headed for Venice and we headed for Sea World.

Sea World was a really nice park. However, they do not have nearly as many people working there as Disney World. It was hard to find someone at times to ask where to go or how to get into an area with the wheelchair.

One of the first things we saw was a long walkway that went under the water. The tunnel was all glass and all kinds of fish were swimming around us. Adam really liked it. At first he was afraid to go into the building.

We saw a water ski show that was pretty good. Then we went on the Arctic Expedition. You go into a building for "depature". It consists of a group sitting in a room watching a movie of a helicopter ride to the arctic. Then you leave through long hallways that look like an arctic station. You emerge into areas that were made to look like the ice cap. Adam really thought we had gone to the arctic. He kept saying "how are we going to get back to Florida". We saw polar bears and walruses.

Then we went to the sea lion exhibit. I bought two containers of fish so Adam could feed the sea lions. He got a big kick out of that.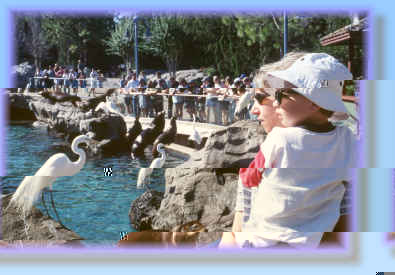 The Sea Lion exhibit.


Other displays we saw included the penguin exhibit, sea turtles, and sea otters. There is a 400 foot rotating tower to go up. Adam really wanted to do this but it was closed for maintenance when we arrived. It opened in the afternoon so we made it our last event. Adam thought it was great. I pretended to be afraid. He held my hand to make me feel better.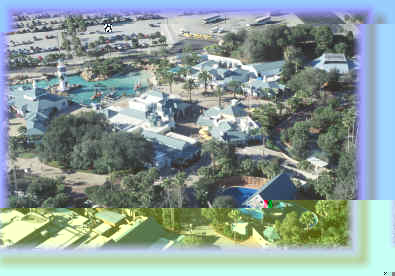 A view from 400 feet up in the tower at Sea World.


After the tower it was almost 4:00. Suddenly it seemed like we were going to be late to get to the airport for the 5:20 flight, so we rushed to the van. We arrived at the gate at 5:00. Our seats were the same as the flight down, 11d, e, and f. After takeoff we had a great view to the east. Cape Canaveral was quite a sight. There was not a cloud in the sky. The Vehicle Assembly Building was clearly visible. I turned on my GPS. The coordinates for Pad 39a and b were already stored as waypoints. Pad 39b was 48 miles away. So the VAB was probably at least 45 miles away at that point, but clearly visible.

Adam started playing with the man behind us about halfway through the flight. They were each sticking their hands between the seats. Pretty soon we were all talking. He was a co-pilot for Northwest. His name was Mark and he had just been hired four months ago. Prior to that he flew Lear Jets on charter from Willow Run Airport. He was a great guy and was really interested in Adam. As we were descending he asked if Adam would like to go into the cockpit. After we landed he carried Adam into the cockpit and put him into the co-pilot's seat. I made my way up there a few minutes later and took some pictures.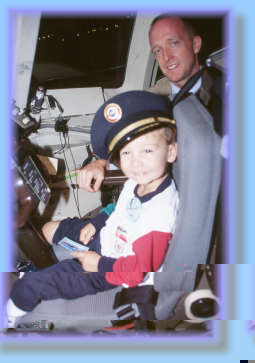 Co-pilot Adam, with his new buddy Mark.

Thanks, Mark!


Our limo driver was waiting for us at Detroit Metro Airport and we made it home by 9:45pm.

Adam went back to school the day after we got home. He said he told a story in class about his trip to Florida. I sure wish we could have an audio tape of it.

Back to January, and the rest of the story