Adam's first year of school ended in the first week of June. It had been a wonderful year for Adam, full of fun learning, fun activities, and lots of love. Adam thinks the world of Mrs. Cirillo, his teacher. We do too. Near the end of the school year there was a field day for all the kids. Adam had a great time.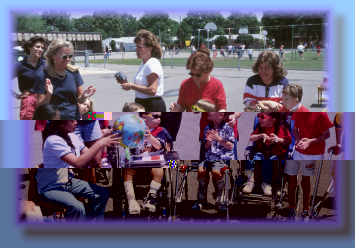 Field Day at Plumbrook Elementary School.

Notice the cast on Adam's right leg.


As I said in April, we had been notified of our acceptance for Camp Sunshine in Maine. Laura Bean, the Family Coordinator for Camp Sunshine had called me with the good news. From our first phone conversation I knew Laura was a special person. I think she knew we were a little hesitant about going to the camp at times. It was over 900 miles away. We did not have much idea what the conditions were like, or if we would enjoy the activities.

The closer the trip got the more it seemed like it might be more work and effort than it was worth. Laura would call from time to time with a request for more information, or just to check on how we were doing. Each time she would provide some gentle persuasion that would get me all fired up again about going to Camp Sunshine. Without her we would never have made the trip to Maine. Laura, we all thank you from the bottom of our hearts. The 6 days at Camp Sunshine were the best thing that has happened to us as a family since before that awful day on February 13, 1998.

Once again I have a detailed day-by-day description of our trip. I have broken it out from the main story like I did with the wish trip to Florida and Disneyland. If you liked the Florida story, you'll love this! Adam says that Camp Sunshine is better than Disneyworld.

Click here to read all about our trip to Camp Sunshine, with pictures!

One of the first things we did after arriving home from Camp Sunshine was take Adam to play in his first T-ball game! We had met a wonderful person at a Christmas party in December who had told us about this Challenger Division league. Coach Ed not only told us about the T-ball league, he ended up being Adam's coach! The Challenger Division is for kids that have physical or mental handicaps. Its main purpose is to get everyone outside and have fun! There could not be a better person to coach Adam's team, the Bluejays, than coach Ed. He was just wonderful with all the kids. Once again our heartfelt thanks goes out to a person who goes way beyond the call of duty to make sure kids like Adam feel special. Thanks to Ed's boundless energy and enthusiasm everyone had a great time.

I have to relate one story about T-ball:
Before Adam's second game Coach Ed had him practice hitting without the T. He pitched to Adam and Adam hit a few from his wheelchair. So Coach Ed told Adam he would pitch to him during the game and not use the T. Adam was very excited about it. Both times Adam batted he hit the ball by swinging at the pitch and not using the T. He was so proud of himself. In each game after that he hit pitched balls. It really made him feel special. He still talks about it months later.

Adam warms up for his turn at bat.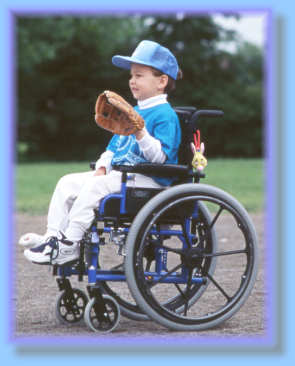 Ready at first base!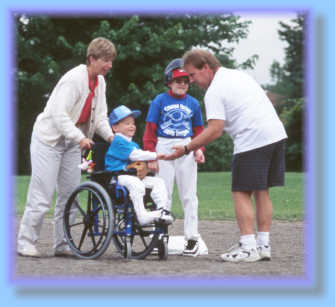 Coach Ed congratulates Adam on a good play.


One day I stopped by the Fire Station to talk with the chief. While I was there he asked if Adam would like to have his own fireman's radio. He would be able to hear all the calls for fire and rescue runs. Wow! What a surprise for Adam. He loves his radio. We have it on all the time. He gets so excited when a call comes in. Chief Ahonen continues to have perhaps the most positive impact on Adam's self-esteem of anyone we know. Adam is so proud to be an Honorary Fireman. He tells everyone about it. He shows everyone his helmet and radio. He always wants to drive by the Fire Station and see what is going on, if the trucks are there, and if Chief Ahonen and Captain Ken are there. They are his heroes.

Late in June my Family Leave from work ran out. My course of action was clear at this point. Adam and I were on the go every day. Even on days with no appointments to keep there was lots of time required for exercises and therapy. I was busier and working harder than I ever had in my life. Adam can't just run out and play with the neighbors any more. He can't just be taken over and dropped off at a friend's house. Being paralyzed and in a wheelchair greatly limits his ability to participate in normal childhood activities. We do everything we can to help him have contact with his friends and take him to different activities. But one of us always has to be there with him. Adam depends on us to play with him to a much greater extent than would normally be the case.

I told my company I would not be able to return to work.

It is tough to see the family income cut in half. Fortunately we had been saving for over ten years for a new sailboat. Now we could use those savings to see us through the next year or two. After that we'll just have to figure out something else.

Near the end of June Adam started going to a Day Camp. It was for physically challenged children and was held in a local high school. Each day there were new activities. They also went on field trips. One was a boat cruise. Another went to a Detroit Shock basketball game. The kids also went to a farm. Every week there were new adventures. Adam was reluctant to go some days in the beginning. But he always ended up having a good time and stories to tell me. The camp ran through the end of July. Once again I am amazed at the number of wonderful people in the world who devote their time and energy to giving children like Adam the opportunity to be normal and have fun. Thanks to all the Sterling Heights Parks and Recreation people who made this camp possible. I hope we get to see you again next summer.

Also near the end of June Lori's sister, Cheryl, came to visit from Nevada. Cheryl's daughter, Emily, is Adam's favorite cousin. She is almost a year older than Adam. He was really looking forward to the visit. They stayed for more than two weeks.

Next Page

Previous Page