One of the reasons Cheryl and Emily had come to Michigan was to attend the Maibaum (Lori's side of the family) Family Reunion held on the July 4th weekend. This year it would be in Westchester, Ohio, just north of Cincinnati. The weather was extremely hot and humid for the three-day weekend. Each day was close to 100 degrees.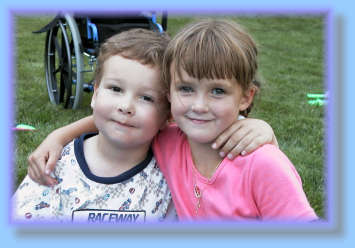 Adam and Emily at the Family Reunion.


On Saturday morning Lori, Cheryl, cousin Dawn, and myself got up early to run in a 10k race in a nearby town. Even though the race started at 8:30 in the morning it was already in the 80's with near 100% humidity. Not only that, the course was the hilliest I have ever seen. We all gave it our best shot. We all finished. I ran the slowest 10k I have ever run, except maybe for my very first 10k many years ago. About the only thing I can say is I never stopped running. Lots of people walked parts of the course. It was brutal.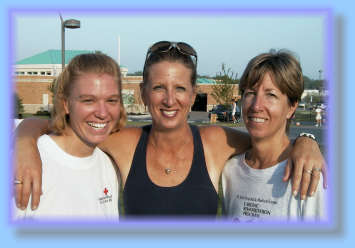 From left, Dawn, Cheryl, and Lori

before the run.


On the way home from the Family Reunion we stopped at one of my favorite places in the whole world! The US Air Force Museum in Dayton, Ohio. I have always been interested in aviation since I was a little boy. For anyone with any interest in aviation this place is the Holy Grail. I could easily spend all day there. We saw an Imax film about the Blue Angels. Adam really enjoyed it. He liked the museum too, although he and Lori did not want to spend as much time there as I did.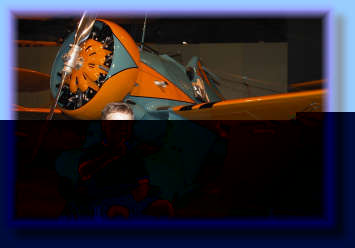 Adam in front of a classic P-26.


Early in July Adam's Physical Therapist, Amy, went on maternity leave for her first child. I was not looking forward to having someone else take her place. Adam really loves Amy and I did not think there could be any other therapist who could do so well with Adam. Donna took Amy's place for three months. I was relieved right away. Donna was not just good, she was great! Adam worked hard for her and she did some excellent therapy with Adam. All I can say is it would be a tough choice to decide who is the best Physical Therapist at Children's Hospital. I have to call it as a tie between Donna and Amy. Of course, I do not want to forget the other half of the team - Angela also has our vote as best Occupational Therapist! Thank you all. I hope our friendship will continue for a long time.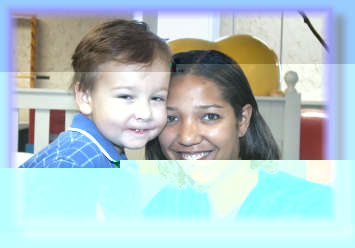 Donna worked with Adam for three months

while Amy was on maternity leave.


The Shriner's had arranged for us to visit the Shriner's Hospital in Chicago. We had heard that they have some of the best and most highly regarded specialists in pediatric neurology and rehabilitation. It would cost us nothing except time to go. So we took the first opening that fit into our schedule and went to Chicago for one night and day.

Adam had the first appointment on a Monday at 8:00am. He had spinal x-rays and was examined by a slew of therapists and doctors. I have to say that the people and facilities at the Shriner's Hospital greatly exceeded our expectations. I would not hesitate to recommend them to other families who had a need of their services and specialties. However, in the end, they had nothing new to offer for Adam. I knew the visit would probably turn out this way. But I will always be willing to go anywhere and meet with anyone who has potential to help Adam.

In the middle of July Adam was scheduled for his monthly clinic visit at the University of Michigan. This time we decided to have the medi-port removed. I was allowed to accompany Adam into the OR and be with him until he went under for the surgery. He only cried a little at the end when they went to put the mask over his face. This was quite a contrast to the medi-port being put in 16 months earlier. At that time the other hospital had started the IV in Adam's hand and wheeled him out of the admitting room all by himself. Talk about a way to make a frightened little boy even more frightened. Here at U of M they were doing whatever they could to ease Adam's fears. Allowing me into the OR with Adam, being with him until he was asleep, and not starting the IV until he was asleep were great touches at a great hospital. I wish they would all do things this way.

Adam came out of surgery with no problems. He is very happy to have the port out, and tells everyone that he is "just like everyone else now". I have to wonder what he felt about himself all the time the port was in his chest. For the first few months it was in he would not even look at it. He did not want his shirt taken off and would close his eyes when we did take it off. Gradually he got used to it but I think he always felt it made him "different" than everybody else.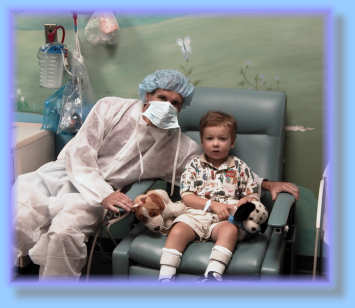 Here I am with Adam, ready to

accompany him into the OR.


One of Lori's Cardiac Rehab patients, Jim, is an avid Tiger baseball fan. He knows some of the people in the Tiger organization and also has season tickets. Jim asked if Adam would like to go to a ballgame. After having played T-ball earlier in the summer Adam was eager to go see the Tigers. It would be his first time in Tiger Stadium.

We arrived for a Friday night game on July 23. Jim had arranged with Sue Gerten, a public relations person for the Tigers, to meet outfielder Gabe Kapler. We went into the entrance of the clubhouse and Gabe came out for a few minutes to talk with Adam. He was a great guy. Adam got one of Gabe's autographed bats and a baseball as a souvenir.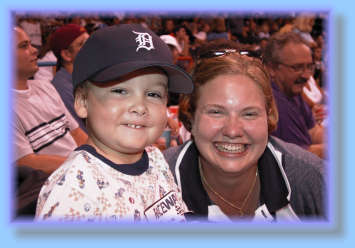 Adam with Sue at Tiger Stadium.


We had box seats just a few rows behind home plate. Adam was very excited for the whole game. I never thought he would last for nine innings. He cheered the Tigers on all the way to the end. Detroit beat Boston 14 to 5! After the game there was a fireworks show. Adam loved it. We did not leave the stadium until after 11:00pm. It was hours past Adam's normal bedtime. He stayed awake for the nearly hour-long drive home too. It was a great evening. Thanks to Jim, Gabe Kapler, and Sue for making this a special night for Adam.

Next Page

Previous Page