Adam started Kindergarten! I can't believe my little boy is in Kindergarten! Adam is back at Plumbrook Elementary. Last year he had been in Mrs. Cirillo's POHI class. This year he would be in Miss DeMulder's Kindergarten class during the morning. In the afternoon he would go to Mrs. Smith's class for POHI. Once again he has wonderful teachers.

Plumbrook Elementary is a great school. Adam has aides, June and Marion, available when he has a need for help. They will assist with his wheelchair, help him to reach things, or whatever else he needs. Other aides in his classes include Lucy, Linda, and Sonja. These aides help other children, but Adam still interacts with them. They are all great and Adam loves each one. He always comes home from school telling us about something one of the aides did that day. Of course, the school PT and OT always want Adam to be challenged to become more independent, so they have to remind the aides at times to let Adam try things by himself first. Adam does like to be independent and will attempt to do new things. The PT, Steve, and OT, Joyce, are great too. Adam sees them two or more times a week. They have a great therapy room at school. We really appreciate the efforts of Joyce and Steve at helping Adam, as well as June and Lucy.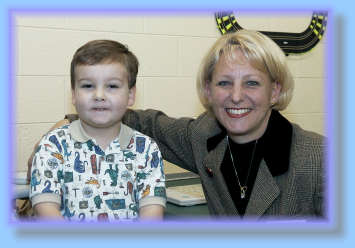 Adam with his OT, Joyce, at school.


Stella, the bus driver from the last school year, had been hoping to get the same route so she could take Adam to school each day. She called us and told us she had good news and bad news. She did not get the route and was very sad about missing all her favorite POHI students. The good news was the driver assigned to the route was Judy. Stella assured us Adam would be in good hands with Judy. We were thinking "how can anyone be as good as Stella?" But we were greatly relieved to meet Judy. She is just as wonderful as Stella and Kathy. Adam loves riding on her bus. They chat all the way to and from school. I greatly appreciate having bus drivers like them. Adam gets off to a great start each day because of their wonderful personalities. They really care about Adam and he loves each of them. He looks forward to getting on the bus each morning. Thank you Kathy, Stella, and Judy!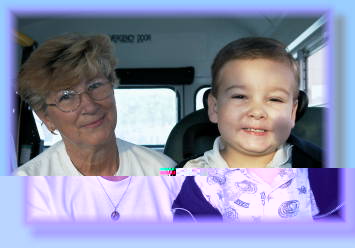 Judy is Adam's bus driver this year. Adam

has great time with her on the bus!


Adam gets on the bus at 8:00am. He comes home about 3:45pm. He and I get up each morning at 6:00am so we can get all his therapy done before school. It takes over half an hour to do his electrical stim. Then I do stretches and range of motion exercises for about 40 minutes. Getting dressed and putting the AFO's on his feet takes another 15 minutes. After breakfast we sometimes have 10 or 15 minutes to get in his stander. In the afternoon I try and do everything all over again, plus spend at least an hour in the stander or half an hour walking with the RGO.

The weekend after Labor Day brings the annual Mackinac Island 8 Mile Run. It is one of our favorites. Grandma came with us to Mackinaw City to watch Adam while Lori and I did the run on Saturday morning. Adam just loves the Mackinac Bridge so it is pretty easy to make the decision to spend 4-1/2 hours driving up for the weekend. We had a great time.

Deputy Chris (see December 1998) had offered last winter to get Adam a ride on one of the Macomb County Sheriff Marine Patrol boats. We just had to let him know when and he would set it all up. We had a pretty busy summer and never seemed able to find enough free time to fit the boat ride into our schedule. Now the last nice boating days were rapidly approaching. If we did not do this very soon it would be too late for this year. We finally got a weekend free and called Deputy Chris. He jumped right on it and called me back just a few minutes later and said everything was set! What a guy.

On the day of the ride Adam and three of his friends went with us to the Sheriff's Marine Division facility in Harrison Township, which is located on Lake St. Clair. There we were met by Deputy Chris. He introduced us to Deputy Frank of the Marine Patrol. We took a brief tour of the facilities. Then everyone put on lifejackets and got in the boat.

The weather could not have been better. I think it ended up being the last nice boating day of the year. We came out of the Clinton River into Lake St. Clair and headed south to Metro Beach. We went up the Black River to cruise by the annual Metro Beach Boat Show that was underway. Then we came back out into the lake and headed south again. Deputy Chris and Deputy Frank had arranged a little surprise for Adam and his friends.

They took us to Coast Guard Station St. Clair Shores. The Coast Guard personnel had been notified we were coming. They gave Adam and his friends a private tour of the station and equipment. Then they all got certificates, some souvenirs, and Coast Guard hats. Our thanks go out to everyone at Coast Guard Station St. Clair Shores. A great time was had by all.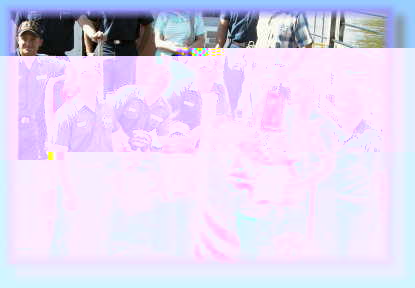 Adam and his buddies with their certificates

on a Coast Guard patrol boat.


After we got back out in the lake Deputy Frank let each child take a turn steering the boat. You should have seen the grin on Adam's face. Deputy Frank gave the throttles an extra nudge. Adam could not have been happier. I will never forget the sight of him at the wheel as we were flying across the lake, grinning from ear to ear. Thank you Deputy Frank and Deputy Chris.

Next Page

Previous Page