Welcome to the Adam's Story web site.
Adam was born on Valentine's Day, 1994. I will never forget that moment when I first saw him. It was a moment of magic. Before Adam's birth I was unsure about having children. When I first saw him my apprehensive feelings turned into intense love in about two seconds. The feeling was indescribeable. My love for Adam has grown every day since.
As you will see he is quite a hero.
Since March of 1998 Adam has had leukemia.
In July of 1998 he was paralyzed by a rare neurotoxic reaction to chemotherapy.
However, he does not let anything slow him down.
Please come in and read his
story
.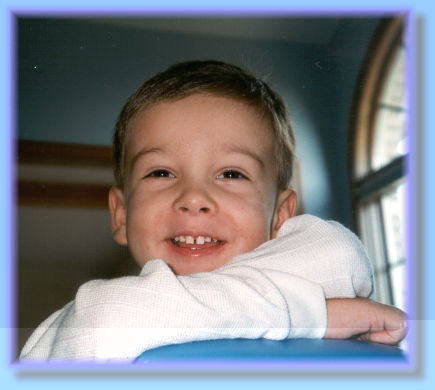 Update on June 22, 2000:
I would like to thank everyone who has spent some time on this site.
The many guestbook signings and messages emailed to us have all
been read with great appreciation. Each and every one means a lot
to us. I promise to update and continue Adam's Story. Adam is doing
great! We have lots of new adventures to share. Keep checking and
one of these days I will have it all done!